'Venom: Let There Be Carnage' adds more mayhem to the Marvel universe
Eddie and Venom face off against a new foreboding enemy, Carnage.
'Venom: Let There be Carnage' was released Oct. 1st, 2021. It serves as the sequel to the 2018 movie 'Venom' and is overall a great movie to watch. This movie has many great moments and surprising twists.
The movie follows Eddie's (Tom Hardy) and Venom's struggles living together. They both have to put their differences aside to fight against a new rising threat: Carnage (Woody Harrelson).
Overall, this movie is a good action movie to watch alone or with friends and family. The action is incredible and they put time into choreographing the fights. The fight scene near the end of the movie was amazing and shows just how powerful Venom and Carnage are.
"I liked it. It was funnier, […] The scenes with Venom and Eddie together made it really funny because of Eddie and Venom's banter. The movie was great because of the detail and I loved the way Carnage was introduced. I also loved the backstory behind Cletus and Frances," freshman Makayla said.
There was also some great comedic timing throughout the movie. Venom's relationship with Dr. Dan Lewis (Reid Scott) made some really funny moments throughout the movie. Also, the dynamic between Venom and Eddie is a pleasing and comedic storyline added.
"I think the relationship between Eddie and Venom is really good and pretty believable. […] I think their relationship was better because of how it was developed off and on screen […] Where they started, where they are in the beginning, and where they go now with their symbiosis was an enjoyable and interesting storyline to watch," senior Jamiel Guillergan said. One thing that this movie falls short of is the amount of action the movie gets. The movie did not leave much time to the action itself. They could have made more fight scenes and made it longer. They should have spent more time focusing on the story and fights instead of relying on only comedy.
"One flaw I had was that Carnage wasn't in it as much as I hoped. […] I thought he was gonna be in more scenes and be a bigger part of the movie. I thought he was gonna be hunting down Eddie and Venom instead of just listening to Cletus like a dog the whole time," Guillergan said.
Some people also think that the storyline should have been given more time as well. The movie could have gotten more time learning more about Cletus Kassady and Frances Barrison (Naomie Harris). They also could have gone further about Cletus Kassady's reaction of learning and transforming to Carnage, instead of him just transforming and killing people right away. They could have even made him scarier as well.
"I thought carnage was awesome, but he wasn't as scary as I thought he'd be […] because he was a very toned down version of what I expected, which was a creature with no control […] To me, he was just a red venom with more tricks […]" Guillergan said. Despite the flaws, Venom: Let There be Carnage is a good movie that is definitely worth watching. It's great action and comedy make's up for the small flaws. Besides, there's even some surprising plot twists that will leave you excited!
"Venom: Let There be Carnage" is now playing in the movie theaters.
About the Contributor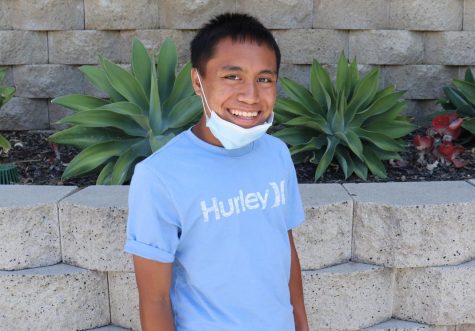 Jesse Calado, Staff Writer
(He/Him) Jesse Riley Calado is a freshman at Mission Hills, looking forward to working as a photographer during his first year in journalism. His interests...