The multiverse has been unleashed in "Spider-Man: No Way Home"
Continuing right where "Spider-Man: Far From Home" left off, Peter has to deal with the consequences of the last film,
"Spider-Man: No Way Home" Strikes Speculation Among Students
Swinging into action this winter, "Spider Man: No Way Home" has students across Mission Hills filled with anticipation for what the upcoming movie will be like, and how it will affect the future of the Marvel Cinematic Universe.
"As a Marvel fan, I'm personally excited for it coming out, being that it will deal with the Multiverse and the several other Spider-Man franchises intertwining," said senior Benjamin Eyer.
Ever since the first teaser trailer dropped on Aug. 23, students have been filled with excitement for the upcoming movie, especially since it has been over two years since the last Spider-Man film, "Far From Home," came out. At the end of the last movie, Peter Parker had been ousted to the world as Spider-Man by Mysterio, who blamed Spider-Man for his death. With this cliffhanger, fans have been ready for the next film to show how Peter deals with this.
With the teaser trailer, we have the following answers: Peter asks Steven Strange to cast a spell erasing everyone's memories, but Peter, realizing that would mean his friends & family, tries to stop Strange from casting, accidentally opening the Multiverse onto their world, something explored in "Loki" and "What If…?". As a result, past villains have returned, including Alfred Molina's Doc Ock from "Spider-Man 2," Jamie Foxx's Electro from "The Amazing Spider-Man 2," and William Dafoe's Green Goblin from 2002's "Spider-Man." With Doctor Strange's assistance, Peter must now deal with these new threats while figuring out the future of his life as Spider-Man.
Ever since "Avengers: Endgame" delved into the concept of time travel there raised the concept of the Multiverse, it has been a major point of much speculation among the fandom, with people speculating who the new arc villain is going to be with Thanos' demise and how the upcoming films will play into this idea. With 'No Way Home' appearing to be the first Marvel film to deal with the impact of this new realm, many fans have been anticipating what this could mean for the MCU.
"Considering the fact that new dimensions are opening up, that could mean a whole other world of just villains or heroes that we completely forgot about or have only been noticed in the comics," said freshman Natalie Hevener.
However, some are worried that with this large burden of introducing such a massive realm with literally infinite potential and crossover opportunities, the film might not live up to fans' expectations.
"I think it's going to be really good, though I'm worried that people are going to be mad that the Spider-Mans from the other movies aren't in it. I'm worried that it's not going to live up to fan expectations," said junior Erin Beckwith.
Until then, fans at Mission Hills will just have to wait until Dec. 17 to see Spider-Man and Doctor Strange back in action against the villains of the Marvel Multiverse.
About the Contributor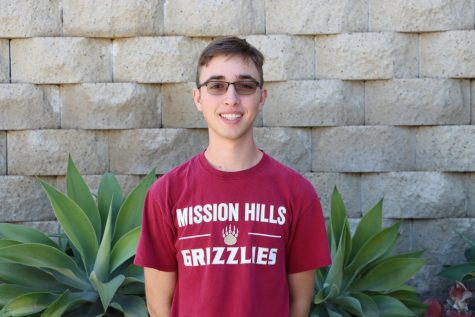 Jonathan Wilbers, Staff Writer
(He/him) Jonathan Wilbers is a senior who joined the Silvertip staff in 2021. Jonathan believes that the paper provides great experiences in collaboration,...