"Shang-Chi and the Legend of the Ten Rings" makes box office history in the midst of the pandemic
Marvel's first Asian superhero has made his MCU Debut!
Disney recently released a new movie named "Shang-Chi and The Legend of the Ten Rings" that came out Sept. third!
Shang Chi is a superhero from Special Marvel Edition number 15 released Dec. of 1973. Shang-Chi is played by Canadian actor Simu Liu.
"I like the movies that have come out because they really show more in depth looks at underwater marvel characters, and I think that's important, we see so many mainstream Marvel characters and often the background important ones get left behind or forgotten when they have just as much potential as the other big marvel characters, " junior Abigail Barnett said.
The movie follows martial arts master Shang-Chi and his past that catches up to him which happens to be the Legend of the Ten Rings. The movie goes through how he grew up with his father and of what he saw while maturing. The movie also shows the audience about why and how he decided to leave his old life behind. His ups and down and the new life he brought onto himself and his friends who he has made throughout his time being away from his family and martial arts.
Actor Simu Liu is a stunt double, actor and writer. He did his own stunts and throughout the movie the audience can tell how in character he truly gets.
"I think it's a great movie concept because Disney is introducing more people of color and giving people that representation they need and deserve. Asians don't get as much representation in movies and shows the way others do and it's extremely unfair. Not even that but when they do get representation it isn't as good and very stereotypical, " junior Ingrid Halario stated.
Ingrid isn't the only one who thinks that this movie is giving good representation. Unlike the other directors who try to represent Asian culture, Destin Cretton and the majority of the cast members are Asians who grew up in Asian countries and with full Asian families. They really put in their own experiences and things they grew up with into the movie. Which is why so many love the authenticity that was put into the film.
The fact that Disney did go in depth and gave an accurate representation of Asian culture is so important. All of the food Disney shows in Shang-Chi is considered authentic and many Asians say that it's something they grew up on. Shang-Chi doesn't stereotype and goes above and beyond of Asian representation in the film. It's a huge breakthrough.
If you are interested in watching "Shang-Chi and the Legend of the Ten Rings" Buy tickets now at your local movie theater. If you have Disney Plus you will be able to watch it in the comfort of your home on Oct. 18, 2021.
View Comments(1)
About the Contributor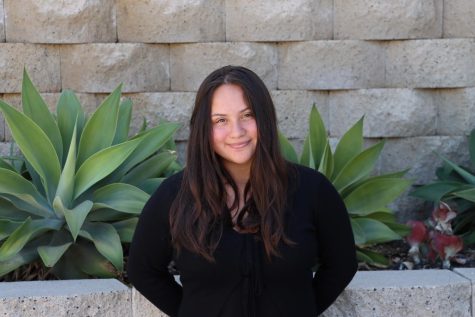 Aryanna Martinez, Photographer
(She/her) Aryanna Martinez is a Senior staff writer and photographer at Mission Hills High School. She was born and raised in California. Her hobbies include...