It'll be a night you'll never forget, as "Carrie: The Musical" finally debuts on the Mission Hills stage
The show was originally scheduled to debut spring of 2020, but due to the pandemic it was pushed back.
Witness the chilling tale of a bullied teenage girl whose prom night takes a dark, violent, and supernatural turn in Mission Hills' returning production of "Carrie: The Musical."
Like most aspects of student life in the wake of the pandemic, the drama department's 2019-2020 production of "Carrie: The Musical" was canceled before it could go public. For this weekend only, the musical will be returning to Redwood Hall to honor all the hard work put into the show!
"Returning for the musical has been so exciting, but at the same time everything is so different. We've lost castmates and had to reblock to make everything covid safe. I'm most excited for the audience to see the blood dump in the destruction. It's the climax of the show where everything quite literally crashes and burns and the cast has worked really hard to instill horror in the audience," sophomore lead actress Tristan Murphy said.
"Carrie" is a musical adaptation of Stephen King's 1974 novel of the same name. It tells the story of a shy girl named Carrie White (played by Tristan Murphy) who, as a result of the relentless harassment from her peers and a cruel prank on her would-be magical prom night, unleashes her budding supernatural abilities in a chaotic, destructive display.
"Even though we have masks on, the show is a total riot! It has some funny and serious parts and I think almost everyone can enjoy it. Honestly, who wouldn't love a gory story?" sophomore actress Meilani Cisneros said.
While many members of the cast have already graduated, the remaining members have returned for their spots in the musical. Additionally, there have been changes to showing times and availability to comply with the current COVID-19 social distancing guidelines.
"Rehearsals are so tough, it's sometimes hard to sing and breathe when working in a mask. Although many things have changed spacing-wise and character-wise, the cast is very dedicated and determined in their roles! I honestly think this show will be amazing, you don't wanna miss it!" Cisneros continued.
"A major change that was made was the casting since some roles had to be replaced. We also have six less people than we did last year and it definitely makes a difference! I'm most excited for us to finally perform the show for our friends and family. We finally get to show others the show we worked so hard on!" sophomore supporting actress Hailey Noce said.
"Carrie: The Musical" returned to the stage May 27, and will have another show on May 28 (7 p.m) and May 29 (7 p.m and a 2 p.m matinee). Don't forget to buy tickets and secure your seat for this chilling tale!
About the Contributor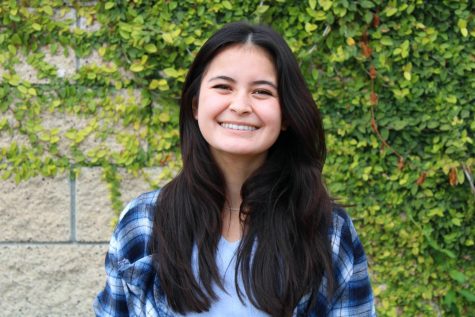 Avery Huffer, Staff Writer
(She/Her) Avery Huffer is a senior at Mission Hills High School, and this is her first year as a staff writer with the Silvertip. She hopes that during...