The VAPA winter arts showcase displayed Mission Hills' talented artists
VAPA programs hosted and participated in the annual winter arts showcase, though this year was different due to COVID-19!
In a COVID-compliant all-online installation, the VAPA Winter Arts Showcase demonstrated the full range of the Mission Hills' arts department. The showcase featured works from every possible branch of the Visual and Performing Arts tree, including the products of band, dance, ceramics, drawing and painting, metalworking and sculpting, photography, drama, ONE TV, and digital music.
From the photography department, there were features ranging from Digital Photography 1 to AP Photography. Students put their artistic sensibilities on display with a critical description of their creative process with each photo. The showcase displayed the works of many talented students, one of such being Zander Vilaysane, a senior whose works for AP Photography reflects his interest in engaging in social conversations through artwork. (Link)
"Having to develop a portfolio for an AP exam that feels subjective in grading was a challenging feat itself. Covid-19 further stretched the demand to be extra-creative when resources and settings are limited. With this considered, I chose to do a more minimal style representation of the mental and behavioral stresses Covid-19 had issued in people's lives," Vilaysane said.
The ceramics department displayed pictures of impressive works from both Advanced Ceramics class and Beginner Ceramics. Along with this, they included descriptions of their works' intended effect on viewers. Senior Kiana Cheng, from Advanced Ceramics, had her sculpture "Rotting Brain" featured, which was meant to provide commentary on drug usage and the effects thereof. (Link – 9th row)
"So I wanted my rotting brain piece to represent how effective drug use can be to deteriorate many parts of the mind. Not only can drugs significantly physically hurt parts of the brain but often individuals' mentality as well," Cheng said.
The performing arts of MHHS were also on display, with readily accessible high-quality videos made by ONETV, Band, and the Dance department. The Dance Production classes worked together to create a virtual dance performance that combined different students' performances at home to create one cohesive product—a massive feat in the times of social distancing and separation.
This event displayed the best of the best when it comes to MHHS's artists. We can look forward to a similar event at the end of the school year to show off the effort of this term's students. If you want to access the website and see the full range of work presented, you can click on the link here and be taken to the VAPA Winter Arts Showcase from term one!
About the Contributors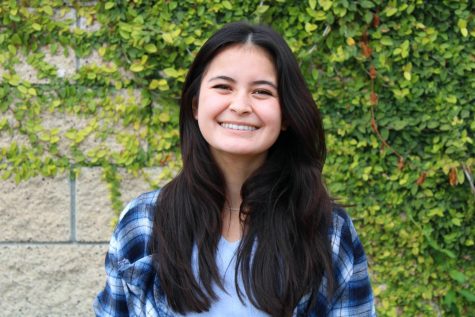 Avery Huffer, Staff Writer
(She/Her) Avery Huffer is a senior at Mission Hills High School, and this is her first year as a staff writer with the Silvertip. She hopes that during...
Kayla Licon, Photographer
Kayla Licon is a junior who joined the Silvertip staff in 2020. Kayla believes that being a part of the Mission Hills Silvertip offers unique high school...