"Among Us" is venting into popularity
An old game has resurfaced and has taken the world by surprise.
"Among us is more popular than what you might think"
As people stay at home their new pastime is a game known as "Among Us," a 4-10 multiplayer deceit game that you can play online or locally as long as you're connected to WiFi. The game was released Nov. 16, 2018 and is available on iOS, Android, and Windows.
"I like that me and my friends kill everyone because we cheat and we like it when everyone votes each other out. Then it's usually just me and my friend last with someone… neither her nor I win. It's a fun game and it keeps you entertained a lot," Michelle Macias (12) said.
In this game you are preparing your spacecraft for departure by completing tasks while attempting to discover the 1-3 imposters. The imposter's intentions are to kill everybody in the spaceship, and sabotage it before crewmates can complete their tasks. "Among Us" has gained attention and popularity recently, amassing a peak of 438,524 players at one time according to SteamCharts, and has become a new way for groups of friends to connect online. The game was created by development company Innersloth who originally created it as a party game to play with friends.
In "Among Us" you're able to customize your character, such as pick your desired color and choose hats and pets to go along with your character. "Among us" can have long waiting times if you wish to fill a public lobby. The video game has a murder mystery-esque feel, and is definitely inspired by other deceit games. People however, have fallen in love with this game and highly recommend it to others. The game can be confusing at first due to a lack of instructions but it is easy to grasp after playing for a short time.
"I played it two times in a public room. The main reason I play it it's because it's trending right now and I wanted to try it out. The characters in my opinion are cute too," Angela Yang (9) said.
So many young people have been using this fun game as a new way to relax and pass time when they have nothing else to do. With "Among Us"' it's definitely challenging for both roles, you can't trust anyone other than looking out for yourself. "Among Us" has over four stars on the app store, the age rating for the game is 9+. Overall this game is great to kill time with friends. "Among Us" has elements of a fun mystery and is just a great way for groups of friends to connect during these hard times.
View Comments (5)
About the Contributors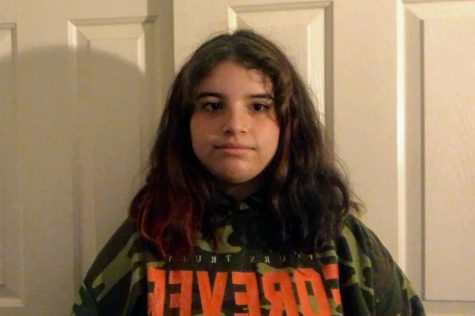 Victoria Aguilar, Staff Writer
Victoria Aguilar is a freshman and staff writer at Mission Hills High School who joined the Silvertip in 2020. Victoria believes that the Silvertip can...
Kayla Licon, Photographer
Kayla Licon is a junior who joined the Silvertip staff in 2020. Kayla believes that being a part of the Mission Hills Silvertip offers unique high school...