Gorillaz live virtual broadcast of "Song Machine" has been announced!
Virtual band, Gorillaz, has announced their upcoming broadcast for their new album.
The iconic virtual group, Gorillaz, has just announced the live broadcast for their Oct. 23 album release "Song Machine Season One: Strange Timez." This virtual concert, via LIVENow, is expected to air on Dec. 12 and Dec. 13. The show will be an addition to their "Song Machine" collaborative series, which features various artists teaming up with Jamie Hewlett's animated gang and, of course, frontman Damon Albarn. There will be three different broadcast time zones, and ticket information is available on the LIVENow website.
Recently, Gorillaz collaborated with Elton John and 6LACK in their new single "The Pink Phantom." Previous to "The Pink Phantom," they also worked with The Cure's own Robert Smith in their sixth episode, "Strange Timez." Along with those two latest episodes, Albarn and the cartoon band have come out with five other singles: "Momentary Bliss" ft. Slowthai and Slaves; "Desole" ft. Fatoumata Diwuar; "Aries" ft. Peter Hook and Georgia; "Friday the 13th" ft. Octavian; and "Pac-Man" ft. Schoolboy Q. Each of these tracks are very unique in their own way and, once again, Gorillaz have impressed listeners around the globe with their musical and visual creations, especially during this rather strange time.
"I think that Gorillaz have always been pioneers for the weird and outlandish, and have always put together very unique projects. I'll admit that when I saw The Cure's Robert Smith's name on one of their singles, I was way too excited. I've never been disappointed by them and I think that a virtual concert couldn't be done better by anyone else, as far as virtual bands go," Sachi Takashima (11) said.
Gorillaz are notorious for their creativity, thanks to Hewlett and Albarn, along with the incredible showmanship throughout their in person performances. Many feel like the same energy will definitely be seen in their streamed concert. Gorillaz's first concert in two years will surely look different, but the passion and innovation will still be their main priorities when performing away from their fans.
"I think it will be sick, especially because with all the things that Gorillaz have done, they will definitely find a way to make it worth experiencing by incorporating their creative animations. Damon Albarn is a great performer and I feel like the energy from their in person concerts will for sure translate. Since shows have stopped, I've been watching a lot of live streamed concerts and they've all been considerably great. Of course it'd be better in person, but they all found ways to make the performances fun," Adam Pacheco (12) said.
Overall, "Song Machine" has defined most fans' quarantine soundtracks and the upcoming concert will still be quite an experience, even if it's not at a huge venue. Music seems to make everyone "Feel Good" during precarious situations, and Gorillaz have creatively made the best out of our current circumstances. Mark your calendars and tune in this December because Gorillaz are totally going to "Rock the House."
About the Contributor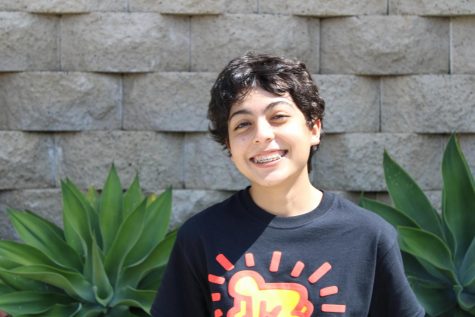 Sophia Novelo, Editor In Chief
(She/Her) Sophia Novelo is a senior and this is her second year in journalism. As an Editor-in-Chief, Sophia fosters an environment in which students'...