How One Stitch at a Time has knit their way into the hearts of others
One Stitch at a Time guides their members through using their creativity to do good in their community.
With rising stress levels, students could utilize a peaceful creative space that provides comfort; One Stitch at a Time has done exactly that. The club has contributed to creating a space where individuals can contribute positivity to those who are less fortunate while being in a stress-free and therapeutic environment.
"The club is very welcoming and provides an encouraging environment. I can tell the officers are genuine and the president is definitely outgoing and willing to help people out," junior Emily Mai said.
Over the course of their three year legacy, the club values that they have been able to teach students how to crochet and knit which in a bigger picture, allows students to find that compassion within themselves to put a smile on people's faces. The club donates their creations to a variety of groups, ranging from homeless and senior centers, to various other donation centers.
The club has made donations to the Salvation Army, mothers and children at the community resource center and transitioning foster youth at Just in Time. They have also donated baby items at Homefront, Mexican Children's Center, and "happy hats" for children going through chemotherapy for cancer. And so, through their service project, they have been able to connect students with people who are in need of someone who cares for them.
"I am proud to say that this environment we have created is cool and enriching. I love that we help people learn to think creatively and encourage members to be creative," senior Laysa Badillo secretary of One Stitch at a Time said.
Club members can attend free afternoon knitting events and earn community service hours as an additional bonus. These workshops allow club officers and members to teach one another how to crochet and knit as they work together to create beautiful handmade beanies and scarfs. What makes the club all the more special is the generous fact that the club officers provide materials to club members for free. The club has therefore allowed anyone to participate in the club to do something positive for their community. The projects knit or crocheted during the event are turned into the officers and later donated to the various groups the club donates to. The club encourages creativity and hopes that students realize they are beautifying their community through acts of kindness.
"Everyone is accepted and included here, we try to make it so that people will feel comfortable coming to our club. We love teaching everyone new skills that will help them inside and outside of the club," senior Alexa Castrejon said.
One Stitch at a Time was created by club president Emily Crysler, now a senior during her sophomore year in an attempt to enlighten the lives of others through generous and heartfelt homemade donations. The club is led by Kelly Granados, Vice President, Laysa Badillo and Alexa Castrejon, Secretaries and Jasmine Rosas as their Treasurer. Their main motivation for continuing this club was the fact that with their projects, they have been able to put a smile on people's faces.
The club meets every Wednesday in room 645 and everyone is welcome to bring their lunch and join the officers in making heartwarming contributions to their community. This uplifting community is one you don't want to miss out on being a part of.
About the Contributor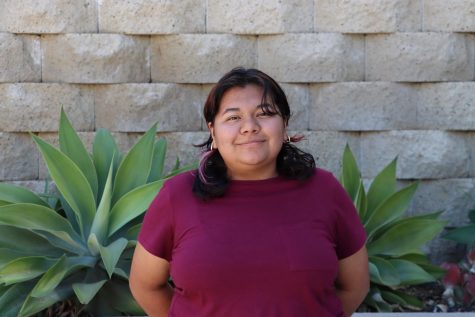 Kelly Amador, Staff Writer
(She/her) Kelly is a Senior and this is her first year as a Silvertip staff member. She loves that the Silvertip crew has created a safe space where students'...