How Jocelyn Alcaide has artistically spruced up her life
Expressing her creative passions throughout the past four years, Alcaide reflects on her high school experience as she takes her next steps.
For a long time Jocelyn Alcaide struggled to find her calling, but after exploring her interests she has been able to utilize her artistic talents to create a fulfilling lifestyle.
Alcaide's creative side is what has gotten the attention of everyone she knows. She expressed artistic attitudes through two different forms of media; she was a part of marching band for three years and while the passion for art existed in her for a while, it wasn't until last year that she dove deep into the arts.
"Jocelyn is such a cool friend, every time I see her art I'm amazed by her talent. Even though I just met her this year it feels like we've always been close because of how quickly we got along. She always makes me laugh and I know she'll do amazing things in her future," senior Taylin Jimenez said.
"
Don't take anything to heart, everyone is focused on their own path and what matters is that you become the best version you want to be.
— Jocelyn Alcaide
During her junior year, thanks to the Club House to Career and College, Alcaide and her friend Elena Ramos were awarded by Best Buy for their painting. The Painting expressed the theme of the Latina experience in the U.S., a large accomplishment of Alcaide.
This year, she joined AP Art where she has fully exercised her artistic ability. Her art was recognized by Mrs. Dickson, the AP Drawing and Painting teacher here at Mission Hills. As a result, Mrs. Dickson submitted Alcaide's art to the Groff Exhibition. The exhibition made her realize that her art stood out to others and has motivated her to continue to create.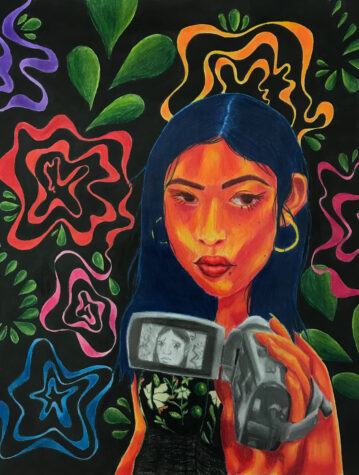 "I didn't have much confidence in myself but others definitely saw some potential in me and winning these amazing awards for something I created really made me realize I could put my passion for creating to work, so I appreciate everyone who encouraged me to follow through with this passion," said Alcaide.
While she expected her high school experience to be harder than it actually was, she is grateful that she has found her passion for the arts and as such will be pursuing a major in Business Administration Marketing at her future college of choice.
"Don't take anything to heart, everyone is focused on their own path and what matters is that you become the best version you want to be," said Jocelyn Alcaide.
About the Contributor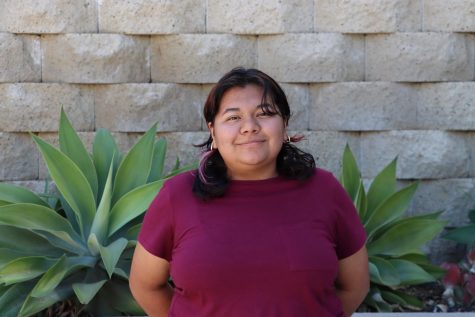 Kelly Amador, Staff Writer
(She/her) Kelly is a Senior and this is her first year as a Silvertip staff member. She loves that the Silvertip crew has created a safe space where students'...