The possible dangers of rainbow fentanyl this Halloween season
Red Ribbon Week highlights the importance of recognizing drugs, such as rainbow fentanyl, and urges students to be aware of the consequences they may bring.
Trick-or-treating has always been a topic of worry around Halloween with concerns of finding razor blades, marijuana, and tampered candy in children's bags. This year, the Drug Enforcement Administration (DEA) has issued warnings after a new rainbow-colored fentanyl has been found in at least 21 states, California included. New colors of the opioid-like red, yellow, pink, and green have emerged, holding a strong resemblance to candy.
"In my past, I've seen others do drugs and alcohol and the outcome of that was not very pleasant […] Even with a little dose of fentanyl, it can be fatal to anyone, especially to those [who are] children and especially towards Halloween," senior Tristan Tang said.
With Red Ribbon Week currently in swing, avoiding drugs is a prominent topic and safety has been promoted, especially with Halloween coming up next Monday. The holiday highlights the importance of recognizing drugs disguised as candy and hidden in other seemingly harmless items.
"The easiest [way] for people, especially students, to prevent any kind of contact with drugs is to simply stay away from it […] The people who make [drugs] try to make them so they appeal, especially to a younger crowd, which is why if you watch the news these days, our customs and border patrol agents are finding rainbow-colored fentanyl, because they're making it colorful so it appeals to a younger crowd hoping that they can sell more of it by marketing in that fashion," said Dan Settle, criminal justice teacher.
Different drugs have different health impacts that can affect the future of those who use them. Fentanyl, being a human-made drug that is stronger than others, has various effects which may include drowsiness, respiratory depression, and pupillary constriction. A dose as little as two milligrams can be lethal depending on an individual's tolerance and body size. Staying away from drugs can be a safer life path, especially for students.
"I myself have never consumed drugs or alcohol in my life and I think it's a great path that people can help live on, and help keep them out of trouble and help keep their bodies healthy in general, and I think it's a great way to keep students focused on youthful things," senior Ryan Finley said.
This Halloween, the danger of rainbow fentanyl reinforces the old common lessons of analyzing your treats to make sure they are unopened on Halloween night. San Marcos Unified School District's superintendent Dr. Andy Johnsen released a message warning the community about rainbow fentanyl as it becomes more prevalent this year.
View Comments (1)
About the Contributor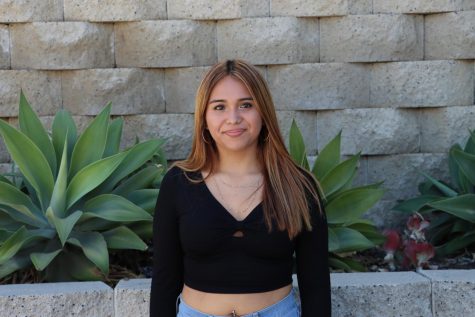 Itzel Alonso, Photographer
(She/her) Itzel is a senior who joined the Silvertip staff this year. Itzel believes that creativity is key for this class. Itzel has won for creativity,...