New year, new rules
New rules are causing divisions between staff and students
Students at Mission Hills are far from unfamiliar with the rules and regulations of school conduct. These range from bathroom passes and late passes to dress code. While some of these have remained the same from previous years, others have been changed, being more defined or restrictive. As these new rules come into play, the enforcement of them have become a topic of discussion among students and staff.
"Writing the passes is cumbersome and a little time-consuming, but allowed me to learn everyone's names very quickly. It also helps me keep track of who is leaving, since nobody can just slip out the door quietly. For dress code, I haven't encountered any issues with it. I would say the more lenient rules have made my life easier, since I don't feel obligated to be overly strict with student's appearances, which have never really bothered me anyway," said Liana Lin, biology and chemistry teacher.
Regarding both dress code and bathroom passes, the opinions on the two vary. While some are in favor of how these are being enforced, others view them as unfair and would prefer them to change. When focused on bathroom passes, known as goldenrod passes, the policy itself has continued from last year, but the enforcement of it has changed. Some students can see fairness in restricting how many students leave and when, as students are no longer permitted to leave the class the first and last ten minutes.
Teachers have multiple ways of dealing with the passes and the consequences of waiting for a break outside of class or going during class. Enforcement of these rules can depend on the teacher– some may have more inflexible rules within their classroom, such as a point system that rewards students who do not use the restroom, but deducts possible extra credit from those who do. And while this may frustrate some students, others agree with how teachers handle passes in their classrooms.
"I don't go to the bathroom, because I'm like 'that is extra credit'. If every teacher did that, I know for that class I'm not going to use up that extra credit. If every teacher kind of enforced that, then literally no one would probably leave unless they really, really had to," senior Vivian Valenzuela said.
The dress code has shifted from lenient to strict, and this year, a few policies have changed. The most notable changes are the barring of professional sports teams' apparel and how hats are no longer permitted inside and must be representative of Mission Hills. These rules apply to all students and staff, but some oppose what the school has determined as the dress code.
"Having the shirts [and hats] be controlled, a lot of people wear hats as a comfort item that being taken away from people it might make them uncomfortable and not want to go to school and people who don't follow the rules get more in trouble and looks bad on their records, and also makes school look bad itself," junior Alix Harris said.
The changes in rules have likely resulted from the 2021-2022 school year. The restrictions for this school year have become more prominent for some, and presumably will not change until further discussion occurs.
"I think we're coming out of the pandemic, I think that there are certain rules… that have always been in place that we have just been lax on, and I think there definitely was a time last year where students took advantage of that… if that means we have a strict year or two before we can reevaluate where we're at, I'm okay with that," said Cole Baratte, head swim and dive coach and AP U.S. history and government teacher.
Mission Hills implemented these policies at the beginning of the year and students and staff are both expected to honor them. The dress code and safety statement can both be found on the Mission Hills High School website.
About the Contributor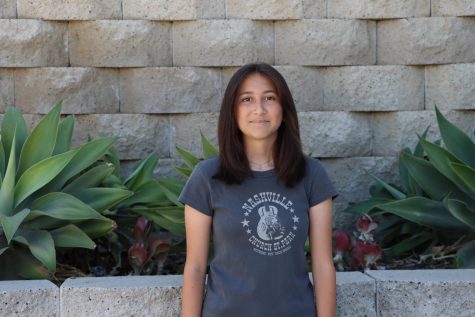 Maya Arcidiacono, Photographer





(She/her) Maya is a sophomore who joined the Silvertip in 2021 and is in her second year of journalism. She loves playing sports, reading, and...