The stars that make wishes come true
A dream is a wish that your heart makes and for Alex Yiu, his dream came true
The popular saying "Wish upon a star, and all your dreams will come true" is brought to life by the Make-A-Wish Foundation, an organization whose goal is to give sick children the opportunity to have their dream become a reality. Since its founding in 1980, the Make-A-Wish Foundation has granted over 285,000 wishes, ranging from a sensational day at Walt Disney World to a breathtaking surf session in Hawaii.
"I highly recommend that people get involved with Make-A-Wish. The part of the organization that means the most to me is that it is centered around what the child wants to do. It was a wonderful experience for our family," Caroline Yiu said.
Caroline's son Alex Yiu, a thirteen year old boy who is handicapped due to an undiagnosed disease, had his wish to travel to Hong Kong to see his cousins granted by Make-A-Wish. His parents were introduced to the organization at Rady Children's Hospital when the nurse case manager suggested that Alex could be eligible to receive a wish. After applying to receive a wish, Alex's dream came true when a Make-A-Wish representative rang the Yius' doorbell and then ran away. Upon opening the door, Alex's mother Caroline discovered Power Ranger toys and balloons on the porch along with a sign saying,"Your wish was granted!" After months of preparation, the Yius rode to the airport in a limousine before flying to Hong Kong. They spent two weeks there with family.
"Alex's name is on a star in Make-A-Wish San Diego because his wish was granted. After visiting Hong Kong, the organization invited our family to Petco Park to watch a baseball game. We got to sit in box seats and meet some of the Padre players with the other Make-A-Wish families. Alex got a signed baseball for a souvenir," Caroline Yiu said.
Nearly 39 years after its founding, Make-A-Wish is holding true to its goal to "enrich the human experience with hope, strength, and joy." Spokesperson Mattie Santy was a development intern at the Orange County Make-A-Wish. Her main duties included creating information pamphlets, editing grant applications and researching the financial situation of wish kids in the Orange County chapter. On top of her fundraising work, Santy wrote letters to every high school in her chapter to ask them to partner with the organization by making a school Make-A-Wish club.
"I wrote stories about children who received a wish and framed the piece, along with their picture, and gave them to corporate donors. I also researched the economic status of wish kids in the chapter," Santy said.
The beauty of Make-A-Wish lies in its mission to relieve the struggles of sick kids and their families for a few memorable days. Although it doesn't cure the child's illness or completely relieve the suffering they are going through, Make-A-Wish provides each child they serve with an unforgettable experience they've always dreamed of.
About the Writer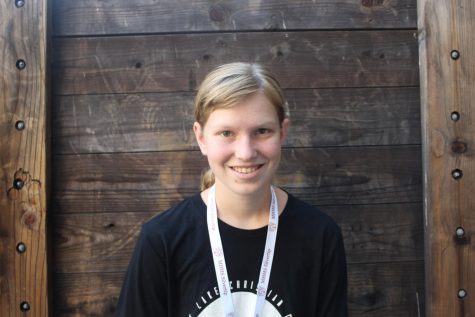 Hannah Larson, Grizzly Den Editor
Hannah Larson is the Grizzly Den Editor and is excited to bring awareness to community events happening in San Marcos. Hannah is going into her fourth...