The San Marcos Promise puts attendees futures within reach
The Future Fair allowed for attendees to explore different professions and education opportunities
Home to a multitude of industry professionals, businesses and colleges, The Future Fair reached new heights on November 3rd at San Marcos High School giving over 400 attendees knowledge of different career opportunities.
"As an ambassador at the Future Fair I enjoyed being able to help out families have access to more resources as they got to meet different colleges and explore their options for life after high school," senior Kelly Granados said.
The San Marcos Promise funded the Future Fair and allowed SMUSD students grades 6-12 as part of their commitment to advancing SMUSD education.
There were a multitude of activities to experience at the Future Fair. The night began with the Networking Hour, exclusive to only juniors and seniors, that allowed students to speak with industry professionals that belong to a multitude of different fields that range from STEM, to business and technical careers.
The event then opened up to the public, hosting the Fund Your Future breakout session that discussed financial aid resources and opportunities for attendees. This essentially gave parents and students the opportunity to know the opportunities available to them to fund their own future. Attendees got to visit over 120 vendor tables, 60 of those being colleges. They got to hear average salary ranges, education levels required and the inner workings of different careers, companies and industries.
"As a volunteer, I got to remind people to do the survey and I got to explore around the future fair. It was very educational because I got more information on the colleges that I want to go to! You could also sign up for tutoring sessions, so I would highly recommend going to the future fair," senior Taylin Jimenez said.
The main goal of the Future Fair was to connect students to a diversity of careers and workforce opportunities. The San Marcos Promise worked towards ensuring that attendees left knowing more about different career paths and opportunities available to them which can help students plan for their future starting as early as today.
"I really liked how there were a bunch of different careers and paths I could learn about. I also enjoyed that it was really self paced. The environment was so welcoming that I'll definitely be back again next year," seventh grader Natalie Amador said.
This year, The San Marcos Promise utilized an application called Future Fair that could be downloaded to the attendees phones. The app allowed attendees to find more information about the vendors that were present at the Future Fair and allowed attendees to connect with the vendors via email or social media. This ensured attendees were leaving with the information they missed out on right from their phone. Through the app attendees also had access to the Fund Your Future breakout session, College and Career resources, a Future Fair map and a place for attendees to ask vendors questions.
An event that took months of planning–the highly anticipated Future Fair gave attendees a new perspective on different workforces and educational opportunities. This yearly event thus has attendees looking forward to visiting the Future Fair next year and experiencing the new learning opportunities available to them.
About the Contributor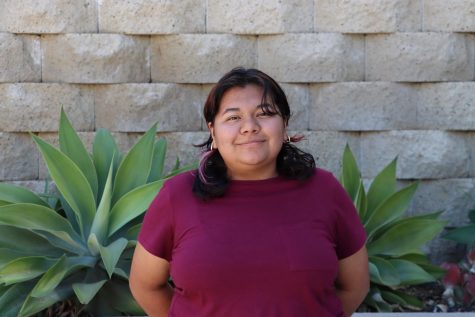 Kelly Amador, Staff Writer
(She/her) Kelly is a Senior and this is her first year as a Silvertip staff member. She loves that the Silvertip crew has created a safe space where students'...