The incoming fall season calls for "Gilmore Girls" re-runs
"Gilmore Girls" is the ultimate comfort show for the upcoming fall days.
With the incoming cold weather, most feel enticed to unwind from their busy day by cuddling up in a blanket and sipping a warm drink. For many, the perfect way to escape a busy workday involves watching a comforting show. "Gilmore Girls," the comedic relief and heartwarming series does just that.
"When fall/winter season comes around I forget about everything and I just feel like doing nothing but enjoying the feeling of being in a blanket," junior Jenni Cruz said.
Viewers have enjoyed this heartwarming series for over two decades. From its initial start in the year 2000, the show has grown a diverse audience after the reboot "Gilmore Girls: A Year in the Life" followed the life of all the loved characters after the initial show's ending in 2007. The fall aesthetics and the overall cozy feel of the town of Stars Hollow, special to the series, is what many find comforting about this show, especially during the fall season. What becomes all the more comforting about this series is the witty mother-and-daughter relationship and hilarious supporting cast.
"I feel that the fall weather somewhat feels like an unwinding period since things stop being so stressful and I look forward to the holidays," senior Berenice Hernandez said.
The story follows the journey of Rory, played by Alexis Bledel, and Lorelai Gilmore, played by Lauren Graham, in their hometown of Stars Hollow, Connecticut. Lorelai Gilmore, pregnant at 16, is a single mother tasked with the challenge of raising a child on her own. Nonthlesses, she fills her home with a plethora of pop culture references, coffee, and nothing but fun that nurtures a close mother-daughter relationship. As the story goes on, Rory goes on to attend Yale and Lorelai opens up her own inn with her best friend Sookie St. James, played by the wonderful Melissa McCarthy.
"The show is comforting because of what seems to be a never-ending fall season. Since I heavily enjoy the fall season, I find that this show reminds me of a getaway town that gives me the aesthetic fall feel even when it's summer," senior Jocy Alcaide said.
While many were left unsettled with the reboot of Gilmore Girls, watchers continue to enjoy the story set on cold fall days, with unlimited sweaters and coffee, coffee, coffee.
About the Contributor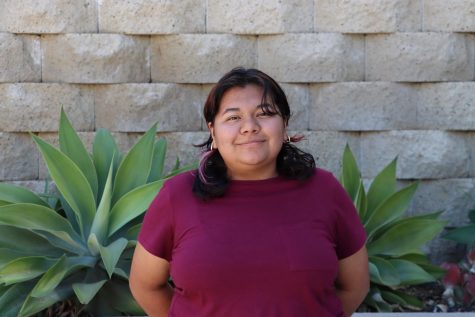 Kelly Amador, Staff Writer
(She/her) Kelly is a Senior and this is her first year as a Silvertip staff member. She loves that the Silvertip crew has created a safe space where students'...