Another Asian American and Pacific Islander Heritage Month comes and goes
With another year passing comes May, which is also known as AAPI (Asian American and Pacific Islander Heritage Month). AAPI Heritage Month acknowledges the Asian Pacific American community and their history, culture and influence on the United States. Along with the recognition comes a rise in hate, with 2021 showing a 339% increase in hate crimes towards Asian Americans. Due to this increase, about a third of Asian Americans claim they have changed their day to day routine to avoid these incidents.
According to the STAATUS Index Report of 2022, 50% of Americans believe that race relations in America have gotten worse. Additionally, an AXIOS poll states 21% of surveyed Americans believe that Asian Americans are partly responsible for COVID-19.
"Asian oppression has become rampant during the peak of the pandemic… [Victoria Ngo and I] wish to raise awareness of social issues as well as appreciation for the numerous beautiful cultures found within the community, in hopes to combat racial discrimination in America," said senior Jena Hernandez, treasurer of the Asian Pacific Coalition.
The STAATUS Index Report also states that 19% of 18 to 24 year old Asian Americans feel like they belong, a smaller percentage compared to other age groups. Stereotypes and assumptions often minimize the identity of Asian Amercians. Asian American representation also prevelantly only depicts East Asia, further reducing identities and disregarding the diversity of Asia. Asian Americans of this same age category are also the ones most interested in seeing more Asian American actors on screen in television and film.
"As a Vietnamese-American, APAHM shines a spotlight on many underrepresented AAPI groups and I learn further about the unique cultural traditions that come from the AAPI community… representation means being able to highlight and share the beauty of many cultures that are normally affected by harmful or false stereotypes in the media," said senior Victoria Ngo, co-president of the Asian Pacific Coalition.
Art, or photography specifically, can be a way for the Asian American community to be represented. Jena Hernandez and Victoria Ngo recently did a curation project in their photography class about unity in the AAPI community. The photos they put together documented AAPI history and more modern times, from activist Corky Lee arm in arm at a protest to cheerful people celebrating Rishi Panchami, a Hindu festival. All of the compiled images captured how the AAPI community can come together to honor culture and overcome discrimination.
"Photography is powerful because it can communicate so much in one still image… you can tell a story and share something with someone who's never seen that before, never understood it. And even if we don't speak the same language or even if we can't read or write, unless we're visually impaired, we can all look at a photograph and read it," photography teacher Lori Sokolowski said.
American American heritage is not just honored in May, but year round at Mission Hills. Jena Hernandez and Victoria Ngo's project can be viewed here, and more information and updates about the Asian Pacific Coalition can be found on their Instagram page @mhhsapc.
About the Contributor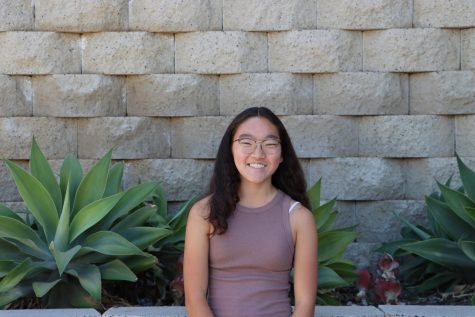 Lori Nishiguchi, News Editor
(She/her/hers) Lori Nishiguchi is a sophomore who joined the Silvertip in 2021. Lori believes that unbiased, truthful information is key to an accurately...