Mission Hills Grizzlies are rewarded for their hard work when they become National Merit Scholars
Three Mission Hills seniors are recognized for their work over the last 4 years by becoming National Merit Scholars.
This year, three students from Mission Hills High School students received scholarships from the National Merit Scholarship Corporation (NMSC): Jaedyn Hoenig, Andrew Diep-Tran, and Paige Sundelius.
The National Merit Scholarship Corporation (NMSC) recognizes and honors students in the United States who show have shown academic excellence. Sponsors of their scholarships include ViaSat Inc., Northrop Grumman Corporation, and The UPS Foundation.
Senior Jaedyn Hoenig was selected as the winner for the National Merit ViaSat scholarship, sponsored by ViaSat Inc. She was selected for this reward for her exceptional performance in the PSAT. According to her, she reached these heights by setting specific goals for herself. Hoenig plans to attend Stanford University to study bioengineering.
"Throughout my high school career, Mrs. Markgraf has endlessly supported me even in moments where I wasn't the best student or didn't necessarily deserve the help. She's always motivated me and helped me dust myself off because I think she saw my own potential better than I did," senior Jaedyn Hoenig said.
Another senior, Andrew Diep-Tran, was selected as the winner for the Northrop Grumman Scholarship, sponsored by the Northrop Grumman Corporation. Diep-Tran was selected because he started an international non-profit organization that teaches economics to K-12 students across 7 countries and 5 different US states. He also advocated for pro-business policies as economic development and business advocacy intern. He plans to attend the University of Pennsylvania's Wharton School of Business.
"Mr. Amos has been there for me for the past four years that I've known him and Mrs. Ryan has been there for me for the past two years as well. Without them I wouldn't be where I am at all," senior Andrew Diep-Tran said.
Mission Hills' senior Paige Sundelius was announced as is the winner of the James E. Casey Scholarship, sponsored by the UPS Foundation. Sundelius says that being an active part of the school community, striving to get good grades, and being strong-willed are all things that have helped her to be selected. Sundelius plans on attending the Grand Canyon University to study marketing and advertisement in the fall.
"Mrs. Miller is both my AP Government teacher and my yearbook advisor. This year was particularly rough for me, however, she was there for me the whole way and always supported and encouraged me in my work. I couldn't express my appreciation for her coherently, let alone enough," senior Paige Sundelius said.
These students worked very hard this year despite everything that happened, and that work paid off. Congratulations, grizzlies!
About the Contributor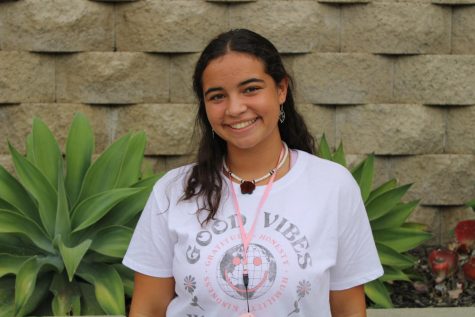 Lilly Brown, Opinions Editor
(She/Her) Lilly Brown is a Senior who joined the Silvertip her freshman year and again this year. Lilly believes that having a school newspaper is the...