This year's Chick-Fil-A challenge filled Mission Hills' campus with Grizzly Pride
As students participate in going to Chick-Fil-A to help raise money for our school, the campus comes alive with school spirit.
Even though this year is a little bit different, we still get to celebrate the Discovery Bowl and the Chick-Fil-A challenge. Usually, these take place in late Oct. to early Nov., but this year the challenge started on Monday, April 12, and ended on Friday, April 16. Last year, Mission Hills took home the trophy for the Chick-Fil-A challenge and the Discovery Bowl, and we'd hoped to do the same this year."I think that the Chick-Fil-A Bowl has been a longstanding tradition for quite a long time… I hope that we can win it this year and bring home that victory flag and also that victory trophy," English teacher Shelby McCredie said.
The week that led up to the Discovery Bowl, both Mission Hills and San Marcos competed to see which school could buy the most Chick-Fil-A. San Marcos highschool's cheerleaders rallied up at Chick-Fil-A on Tuesday, April 13, and Mission Hills did the same on Wednesday, April 14. Both schools got a portion of the money spent on Chick-Fil-A orders that were made in their name that week, but only the winner received a trophy.
On Friday, April 16, the Discovery Bowl took place at San Marcos High, since Mission Hills held the event last year. At the end of the halftime show, after the Knight's dancers and cheerleaders performed, the winner of this year's Chick-Fil-A challenge was announced. San Marcos High was victorious this year, so they'll be keeping the Chick-Fil-A trophy until next year's Discovery Bowl.
"I definitely wasn't disappointed when we lost because of all the support I saw from our students on Mission Hills night, but I was surprised since we were in the lead on Wednesday and Thursday," Senior Jasmine Turrubiates said.
Though there was no spirit week to help ramp up the excitement leading up to this year's Discovery Bowl, the campus (and the Chick-Fil-A parking lot) was filled with grizzly pride and determination. Even though we lost, it was worth having some fun raising money for our school and showing our school's pride.
About the Contributors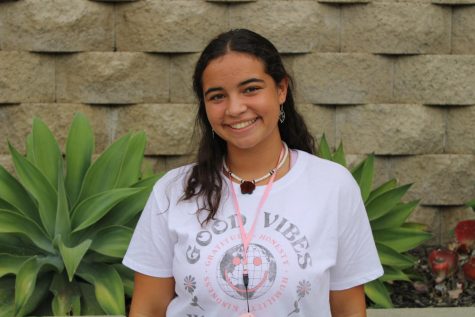 Lilly Brown, Opinions Editor
(She/Her) Lilly Brown is a Senior who joined the Silvertip her freshman year and again this year. Lilly believes that having a school newspaper is the...