COVID-19 takes a toll on our health and much more
COVID-19 has affected the health and safety of our country, but that's not all.
Since COVID-19 took the world by storm starting in late December of 2019, there have been over 90 million cases worldwide and about 23 million in the United States. With now over 300 thousand coronavirus-related deaths in the United States, COVID-19 has taken a catastrophic toll on our country. Not only has there been a huge human life cost to the virus, but there have also been increases in evictions, overdoses, suicides, small business closures, homelessness, and much more.
Since February 2020, nearly 16 million people in the US have lost their jobs due to coronavirus complications, putting the national unemployment number at 17.9 million; according to commonwealthfund.org, the number prior to the pandemic was only 2 million. As a result, roughly one-fifth of renters in the U.S. are not caught up on payments, with renters of color facing the largest hardship. Nearly half of rented households with children are facing housing and/or food hardships due to the pandemic. This is caused by decreased job availability. Thankfully, programs such as the National School Lunch Program (NSLP) and the Supplemental Nutrition Assistance Program (SNAP) allow for children and their families to get the help that they need.
Although there is no official data on the pandemic's impact on U.S. homelessness, experts still do believe that the number has risen due to the number of people who were laid off or furloughed from their jobs. However, COVID-19 is having a huge impact on homeless shelters. Since they are often crowded and in poor conditions, the virus spreads through them like wildfire.
"Everyone deserves to have a safe place to rest and take care of themselves so they can stay healthy and overall, safe," said freshman Anika Brown.
People losing their jobs and being isolated from friends and family has led to higher depression, suicide, and overdose rates across the country. A Kaiser Family Foundation track poll indicated that about 40% of adults in the U.S. report that their mental health has been negatively impacted by COVID-19. Additionally, diagnosed psychiatric disorders, alcohol abuse, and drug abuse have gone up at an alarming rate. According to the CDC, there have been over 81,000 drug overdose deaths in the United States from June 2019 to May 2020, which is the highest number ever recorded in 12 months. If you or a family or friend is struggling with mental health or substance abuse, the SAMHSA's hotline is available 24/7 in English and Spanish. You can reach them by calling 1-800-662-HELP (4357) or find more information on their website here.
Small business closures have been a hot topic throughout the pandemic, and according to CNBC, about 60% of small businesses have closed since quarantine started. Some small businesses have been required to close based on what their service is, but even if these establishments don't close, they are hurting from not being able to have customers inside. In April 2020, the federal government offered $349 billion in loans to small businesses throughout the U.S., but that money ran out in just 13 days. Following this, Congress then approved a second round of loans providing $130 billion. Even though there has been some relief, businesses continue to struggle severely. According to a report done by Yelp, there are about 800 business closures daily.
"I believe that small businesses should be allowed to stay open but should be better regulated on the rules that they set within their premises. Overall, if small businesses need to stay open to survive then they should do so safely," said junior Julian Ceja.
Everyone around the world has been affected by the virus in one way or another, whether it be for better or for worse. Remember to keep social distancing, wearing your mask, and washing your hands to do your part to stop the spread of COVID-19
About the Contributor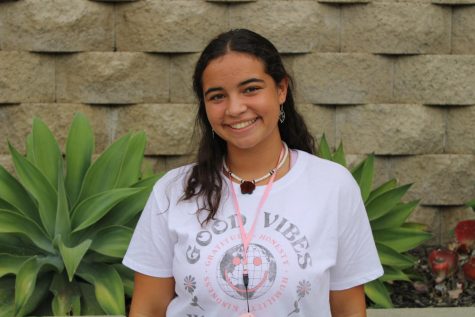 Lilly Brown, Opinions Editor
(She/Her) Lilly Brown is a Senior who joined the Silvertip her freshman year and again this year. Lilly believes that having a school newspaper is the...