Advertising & Silvertip Patron Program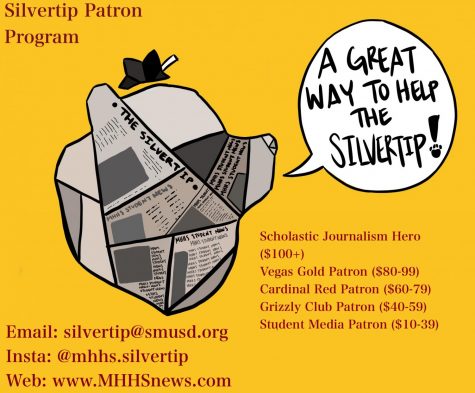 Thank you for your interest in becoming a partner with Mission Hills High School's journalism program! We offer a couple different ways for you to support our work here as student journalists in San Marcos, while promoting your own cause or business. You can either purchase an ad space here on our website, collaborate to have an ad air on our Monday Broadcast show ONE TV, or you can make a tax-deductible donation to our program as a ONE Mission Hills Patron.
Why Advertise With Us?
We can't run paper editions without your help

Advertising in high school media outlets connects advertisers with the coveted and hard to reach a teen audience in an uncluttered environment

Teen spending power only increases every year– we are your consumer

We use social media to not only spread the news on campus, but to promote our product and our supporters like you

Our online newspaper readership is over 3000 students, teachers, parents, and community members

Our broadcast audience is every classroom on campus, every Monday morning
We are a 504c3 program, so any contribution is helpful for tax time

And best of all, your contributions support our program, and empower students to remain connected to their campus and their community through the journalism program at MHHS
What Kinds of Ads Can We Sell?
Ads that promote a local business (small, large, or on the side)

Ads that include coupons (print)

Ads that promote clubs and services on campus (think TSMP, the Writing Den, Clubs, ASB, etc.)

Ads for local events (check the city's website for their calendar and contact)

We CANNOT sell ads for items or services that are illegal for the majority of our readership (i.e. drugs, alcohol, etc.). We also will not sell ads that are distasteful or disruptive to our learning environment.
---
Website Ads
$30 for Footer Ad (728×90) for 30 days
$50 for Sidebar Ad (300X250) for 30 days
$30 for Header Ad (728×90) for 30 days
You can contact us at [email protected] to arrange directly or use the link below.
---
Broadcast Ads/Commercials
$50 for client-provided 30 second commercial, per episode aired
$75 for student-produced* 30 second commercial, per episode aired
*Before air date, student editors will work with the client to produce a commercial.
Once edit is created and approved, typically within 1-2 weeks, client will determine which airdate the commercial will run.
---
ONE Mission Hills Patrons
We Also Welcome Patron Donations for Our Broadcast, Website, and Paper Editions
Maybe you don't want want to advertise, but just want to donate to the Mission Hills High School journalism program as a tax-deductible donation in any amount. We offer the ONE Mission Hills Patron Program for those interested in partnering with us to support scholastic journalism!
As a Silvertip Patron, you, your business, or whatever name you want to make the donation on behalf of will be listed on our student news website and on the Journalism Page on the Mission Hills website after the donation is made. Patrons are listed by tiers:
Student Media Patron: $10-39
Grizzly Cub Patron: $40-59
Cardinal Red Patron: $60-79
Vegas Gold Patron: $80-99
Scholastic Journalism Hero: $100+
If you're a business or individual interested in supporting student media, please consider making a donation to our program to help support our journalism program. Email the adviser [email protected] if you have questions.