Noemi Aguilar is ready to spread her wings and take off "como un aguila" (like an eagle)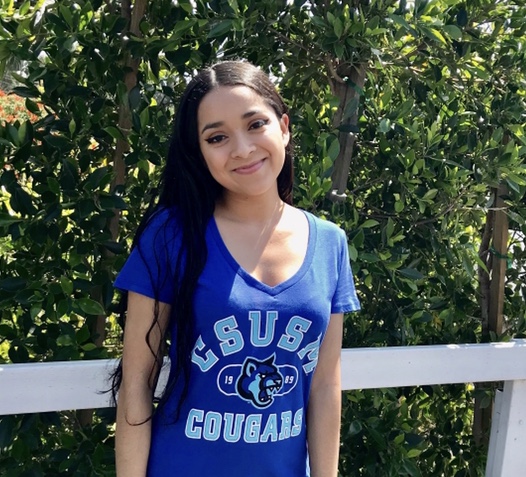 One of the sweetest individuals a person could have the grand pleasure of meeting is packed into a 5-foot Latina with a head of marvelous wavy dark brown hair. Her eyeliner is precise enough to warn one not to mistake her glorious kindness for anything other than sheer strength. Noemi Aguilar is someone who truly values her relationships, tries to make the most out of every moment, and is a beam of light in the lives of everyone she touches. 
   "What I will miss the most about high school are the relationships that I have with my teachers and friends, especially those teachers who have helped me grow a lot throughout the years. Thanks to high school, I have met many wonderful people that have stuck with me and are now a big part of my life," Aguilar said. 
   Through her beautiful personal growth over time, she developed valuable insight into the importance of staying true to oneself. 
   "If I could, I would tell my freshman self to get out of my comfort zone and to be myself. High school definitely exposes you to all types of people and experiences. I feel like it's easy to try to 'fit in' as we are also trying to figure out who we really are, so being your true authentic self is definitely not easy but it will be worth it in the end," Aguilar said. 
   With her incredibly warm and giving nature, it is no surprise that she is reaching for a field in which she can help others.
   "I plan to pursue a career in the medical field. Helping others has always been my main priority when choosing a career path. Building relationships with patients and being able to see them go back their lives must be a beautiful thing," Aguilar said. 
   A significant part of her high school experience is her involvement in dance from which she has made many friends who truly see what a unique individual she is.  
    "Noemi is a very humble person. She has a big heart and is so caring when it comes to others! She's an amazing dancer and she always gives her best," Miriam Cardoso (12) said.
   Like most teenagers, Noemi does not know precisely what lies ahead. However, with her heart in the right place and the infectious personality she holds, it does not take a clairvoyant to predict the remarkable impact she will have and is already having on the lives of many.