News Recap for March 10, 2019
Your weekly recap for all things news.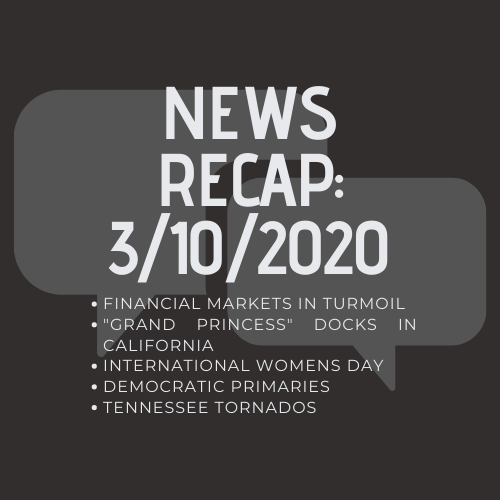 Cruise ship docking in California with COVID-19
Cruise ship "Grand Princess", with at least 21 people aboard infected with COVID-19 (Coronavirus), is planning to dock in Oakland. After docking, California plans to move the 3,500 passengers to military bases for quarantine or back to home countries. The Grand Princess has been held off coast since Wednesday in order to prevent an outbreak, as it was a breeding ground for COVID-19.
Oil drops in price, stock markets in flames
Financial markets around the world have taken heavy hits over alarm on COVID-19 and a dispute between Russia and OPEC. Monday saw the biggest one day drop Wall Street has seen since the 2008 global recession crisis, forcing a trading halt in more than two decades. Oil prices fell to half of its price since January, although it has been recovering after Monday. COVID-19, along with Russia's rejection of OPEC's production cuts plan, sparked the fall of prices due to the reduction of travel and transport.
International Women's Day Rallies
On Sunday, March 8th, International Women's Day ignited both celebrations and protests around the world. These protests were met with violent reactions based on the country; in Turkey, protesters were met with tear gas and arrests, while the Pakistani government created their own counter protests. Many of these protests called for the government to act on issues like abortion, femicides, and the increasing amount of violence against women.
Democratic Primaries: Biden vs. Sanders
This Tuesday, Idaho, Michigan, Mississippi, Missouri, North Dakota, and Washington will host their state primaries following last week's Super Tuesday. Joe Biden has found a sudden amount of support from his big win on Super Tuesday and his endorsements from previous candidates like Pete Buttigieg and Amy Klobuchar. However, Bernie Sanders, who won Idaho, Michigan, North Dakota and Washington in 2016, is looking to repeat his wins in order to have a chance of getting the Democratic nomination for 2020.
Tennessee Tornadoes
Six tornadoes simultaneously ravaged the state of Tennessee and the city of Nashville on Monday into Tuesday, leaving two dead and many communities in a state of disrepair. In response, three counties are receiving federal aid. Metro Public Works are working to help affected communities and have said that they are making significant progress with Tennessee.