'Anne Frank-A History for Today' speaks to the hearts of younger generations in San Marcos
   The first major moment in which the eyes of the youth are opened to the man-provoked cruelties is in eight grade when history and English classes discuss the Holocaust. Thanks to the efforts of the consulate general of the Netherlands in collaboration with the Anne Frank House in Amsterdam, Woodland Park Middle School and San Marcos Middle School hosted the traveling Anne Frank Exhibition. The exhibition was titled, "Anne Frank-A History for Today", and it held the special attendance of the reverent Rose Schindler, an author and Holocaust survivor. She delivered her touching story of the cruelties inflicted upon herself, her family, and the millions of Jews who fell victim to the genocide. 
   "My father said to me, 'Whatever you do, stay together because you have a much better chance of surviving. Stay alive so that you can tell the world what they're doing to us,'" Rose Schindler said.
   There were panels filled with information about Anne Frank and quotes from her journal entries, which built on to the sentiment and informational take-away of the event.. Five student docents, prepared with a two day training, guided people around the room and assisted them.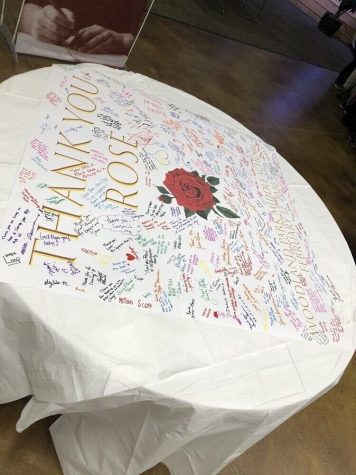 "Hearing her speak about her story and how she got through such a traumatic experience and is still standing strong today is really inspiring. The fact that she does these speeches and goes around to schools shows that she values keeping the memory alive of those millions of innocent people. Being reminded of these things really gives you perspective and makes you realize how fortunate you are to live in the circumstances that you do," Andy Garcia (12) said. 
   The heartwarming nature of this night was highlighted with a poster thanking Rose Schindler for her contribution and a wall where one could write what they love on a piece of heart-shaped paper and glue it on. These details served to show that in the face of tragedy, it is love that keeps humanity going.