Mission Hills' basketball teams head into CIFs after playing their final non-league games against San Marcos
Last Thursday served as a very eventful night for the Mission Hills High School basketball teams! The girls and the boys teams went against Mission Hill's local rival school, San Marcos High School, in their final scheduled game of the season before CIFs. The night started with the girls' battle with the Knights at 5:30 p.m., promptly followed by the boys at 7:00 p.m.
The girls had an amazing start with the scoreboard reading 22-6 after just the first quarter. The team managed to maintain their defense in the following quarter as the Knights gained 6 points again while Mission gained 19. Between the 3rd and 4th quarters the Grizzlies gained a total of 29 points and San Marcos gained 15. Marking their territory, the girls' hard work throughout the season payed off when the sound of the buzzer claimed a win for the Grizzlies with a score of 70-27, making the ultimate comeback from their previous game against San Marcos.
"The improvement that we've faced throughout the seasons reflected in the game against San Marcos as we brought energy from the start and executed the game plan," Jessica Grant (10) said.
The boys began warm ups right after the girls' victory until exactly 7:00 when the first quarter began. Throughout all four of the quarters, the boys played with ambition and confidence and never failed to persevere. The game had its ups and downs for the team, but during the fourth quarter the boys caught up as much as they could. Unfortunately, the boys lost to San Marcos 50-61, but their spectacular skill and development throughout the season does not go unnoticed by fans.
"The season isn't over yet, but we had a really good non-league showing. We won 14 games in non-league and only 2 in our league, but our league is very difficult and high-level. The kids played well and the fact that we only have one senior, Robert, I was very pleased with the season. There's nothing I'd do differently, I think the kids played their hardest," said Coach Hofmeister, the boys basketball coach.
About the Writer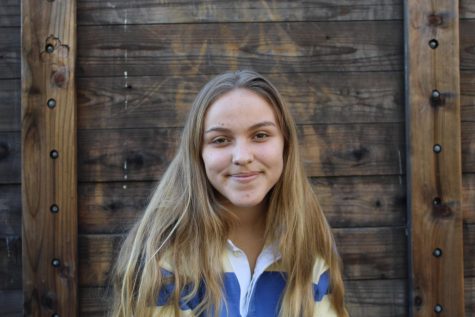 Bri Hernandez, Sports Editor
Bri Hernandez is a sophomore and this year's Sports Editor. She intends on writing for and managing sports, but would also love to write for entertainment...