News Recap for January 27, 2019
Your weekly recap for all things news.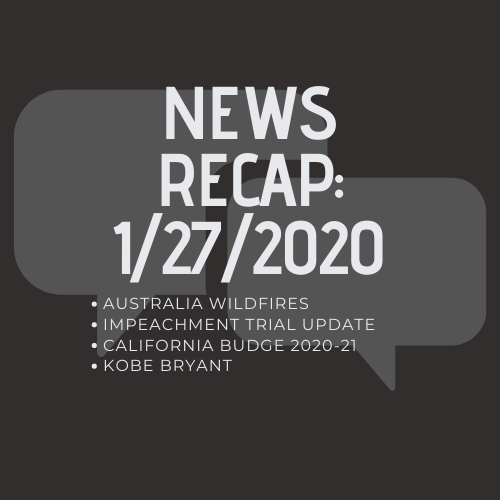 Australia
The Australian bushfires from September are still raging on, despite the largest "megafire" in New South Wales being contained. While fighting these fires, American firefighters have been called to give aid, and three U.S. airmen died in a plane crash. Two million acres burnt, threatening Australian wildlife and displacing the population towards the oceans. NASA reports that the smoke from the wildfires will travel around the world.
Impeachment
The impeachment trial moved from the House to the Senate last week, where opening arguments for the House began on Wednesday, and rebuttals for Trump's legal team on Saturday. Both the Republican and Democratic parties are disagreeing over rules on what evidence and witnesses can be called upon. Republicans claim that the Democrats are interfering with the election through this impeachment trial, but Democrats argue that the Republicans are intentionally mismanaging the trial to support Trump.
Governor New Budget
California Governor Gavin Newsom has issued his draft for the 2020-2021 budget, spending 222.2 billion dollars in state funds. 59 billion dollars are being put into K-12 education, with a 1.2 billion dollar augmentation to the statewide school-funding formula (LCFF). 
Kobe Bryant
On Sunday, basketball legend Kobe Bryant died in a plane crash along with nine other people, including his daughter Gianna Bryant. Kobe and his daughter were traveling towards Mamba Sports Academy, when they suddenly crashed in Calabasas. Kobe Bryant placed fourth on NBA's career scoring list, won five NBA titles with the Lakers, and is well known for his career-defining 81-point game against the Toronto Raptors. Many people in the basketball industry, including Michael Jordan and Magic Johnson, have sent their condolences.