News Recap for October 28, 2019
Your weekly recap for all things news.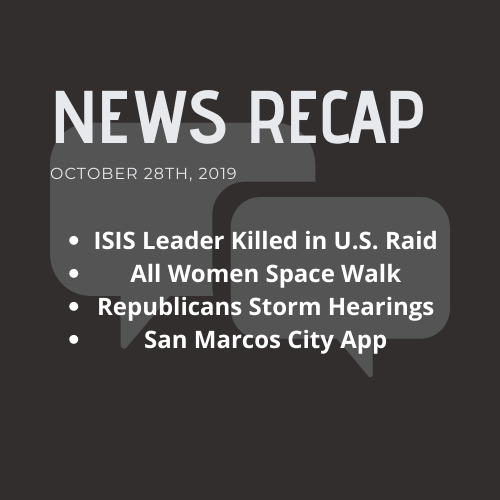 ISIS leader Al-Baghdadi announced dead
   Al-Baghdadi, leader of the terrorist cell known as ISIS, was killed in a U.S. raid over the weekend. Trump confirmed his death on Sunday, where he claimed that Al-Baghdadi "blew himself up" when cornered inside a tunnel. U.S. forces will stay in Syria in order to protect oil fields from ISIS.
All Women Space Walk
   Christina Koch and Jessica Muir have achieved the first all-women space walk last friday; a step that NASA believes is a milestone in achieving gender equality in their industry. The astronauts replaced a battery charge/discharge unit, which regulates energy collected from a solar array into a battery. Previously, an all-women space walk was planned last March with Koch and Anne McClain, but due to spacesuit size concerns, McClain had to switch out with Nick Hague. Koch hopes that this event will spark motivation for women around the world to break gender boundaries in all careers.
House Republicans Storm Witness Hearings
   Last Wednesday, 25 to 30 House Republicans stormed impeachment hearings against President Trump. Led by Republican Matt Goetz, the chaos was fueled by the belief that all congress members and the media should be allowed to observe the impeachment process. Some brought their phones in the Sensitive Compartmentalized Information Facility (the room hosting classified information about the witnesses and their accounts), which Democrats believe breaks the "no electronics" policy.
San Marcos City App
   The City of San Marcos has made an app to help residents report non-emergency concerns. Through this app, city staff and public workers can be notified of any maintenance needs around the city such as traffic outages, debris, and graffiti. The app is available on both Google Play and the App Store.