All the world's a stage for Isaiah Lewis
  Three and a half years of drumline, three outstanding plays, and direction of ONE video; Isaiah Lewis has helped improve the MHHS arts program over his four years here. After participating in the last three plays for the school, he has proven his talent as an outstanding actor; as a member of both the cast and crew, Lewis has shaped the theater group into what it is now.
 "My favorite musical was the first I was in as a cast member, "American Idiot." Not only because it was the best the school has had, but because I made a lot of friends. Sports weren't really my thing, so I found a home in the arts. I've had a really good time here, surprisingly, since it did not start well," Lewis said.
  In drumline, Lewis played everything from cymbals to tenors. He auditioned and made snare this semester, but chose to stay in drama for the play.
  "My favorite show was "As if on Wings;" it was fun, because we set a school record for the highest score. My favorite season was The Dawn, because we got first at every show. I actually lost a bet that we wouldn't get first, and I was tied down and got my head shaved," Lewis said.
  Overall, Lewis has been an amazing role model for everyone in theater, ONE, drumline, and photography.
  "I'm glad that I was able to participate in most of the art programs here and important productions that could take the performing arts departments to the next level," Lewis said.
About the Contributor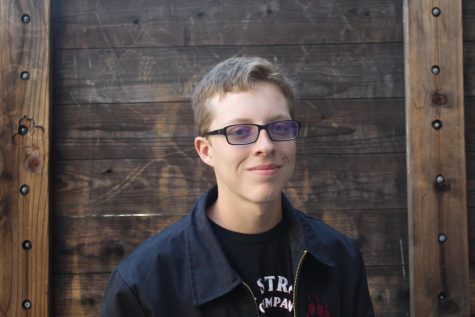 Dylan Reece, Editor In Chief
Dylan Reece is a junior who has spent the last two years in journalism as a staff writer and Entertainment Editor. He is eager to see what this year brings...