Zamarripa wrestles her way past the stigma of homelessness
Cindy makes gratitude her attitude everyday in between her caring pursuits and massive accomplishments.
"The end of freshmen year until now, I've been homeless. I don't feel comfortable telling people because they look at you differently or see you as if you can't do anything, but I tell it so that I know that I'm able to get past that barrier," Cindy Zamarripa (11) said.
Easily, one imagines the local street beggars and drug addicts with no where to go. Despite many efforts to help the homeless, Zamarripa knows that there are none to break the negative prejudices made against homeless people; ironically, the social issue is at times more difficult than the financial struggle, especially when navigating through the unforgiving social circles of high school.
"I personally think that there is a stigma. They think 'oh they're lazy or always on drugs' and that's not true. My mom has never taken drugs, but she's homeless and that isn't her fault. She strives to overcome it," Zamarripa said.
Resilient, courageous and bold can only begin to describe our school's first female wrestler and friend to all. In the midst of junior year stress, Zamarripa is fighting a silent battle that many people currently do not understand. She hopes to inspire others who share her fear of social backlash for speaking up and finding help as they struggle to find normalcy, in spite of being homeless. Zamarripa currently resides in a housing community, but before this great blessing, she was living day by day with uncertainty as to where she would sleep until her four a.m. alarm would wake her for school.
"My mom made sure we weren't on the street yet. We went through different hotels and friend's houses until we landed at a local shelter's doorstep and they let us in. My mom called out for resources. I'd recommend checking your school's resources because it was a huge resource for me. Check with your counselors and check online if you have internet access. Talk to your teachers and let them know what you are going through because sometimes teachers can't tell if you're struggling or not. If you don't finish an assignment for that reason, they'll understand. Be aware and reach out. Mr. Ramirez, Mrs. Newman, and Mrs. Yorba have definitely helped me out. Mr. Ramirez helped me get a pair of glasses when I lost mine. Mrs. Yorba has given me more opportunities to volunteer or more time for assignments, and Mrs. Newman offered me a chance to get sweaters. My counselor Mrs. Martinez definitely helped me too. When I started doing wrestling, she gave me wrestling shoes and got me discounts on the clothing so I could afford it and do the sport that I love. I didn't have a lot of money and was lacking in clothes, hygiene and basically everything that a student needed to survive high school. I definitely owe them a lot because without them, I don't think I would've gotten this far," Zamarripa said.
Zamarripa appreciates the friends that were supportive every step of the way along with many others she has met on her journey who like her, are always on the move or have made their way to a homeless shelter.
"I have to give a huge shout out to my friend Heidi Ortiz (11) because she housed me for a bit. She has a two bedroom apartment along with her mom and four siblings and it was a tight fit, but she let me have a room with my siblings," Zamarripa said.
Living in a housing program is better than nothing, but she admits that it comes at a price. She deals with limited wifi use making homework difficult to finish and has an early curfew that makes partaking in sports difficult. Drug testing has also been a routine part of her life at shelters despite having a clean record. Her financial situation also enhances other responsibilities such as caring for her siblings, but she always looks at the bright side.
"I take care of my brother and my little sister. I watch them and then do homework. At the end of sophomore year it was difficult because my mom couldn't find a stable source of child care so I had to leave school early to care for my siblings. The last two months of school nobody really saw me because I had to take care of my brother. I told the school district and they were okay with it as long as I maintained a C or higher in my classes. It made me more responsible. I had to take into account all the factors: I could give him a temper tantrum or risk his safety. All of it made me more parental but in a good way. I became more caring towards other people and how they feel. I started looking at people differently to understand them, like their body language. I've become more of a leader at school. I'm more productive and better with time-management and I'm more social," Zamarripa said.
With only a year until the end of their contract and until college, Zamarripa admits there's a lot of uncertainty.
"I have no clue what will happen because after this year, my mind is set to go to college. I know that my family is going to make it because they made it this far. If we can overcome it homeless, we can overcome another obstacle. We're resilient that way so I'm very confident in my mom and my siblings," Zamarripa said.
Even with all odds against her, she has not once given up on her dreams of getting to college and paving the path towards success for her family to follow.
"If opportunities are out there I'll leave the state. I have no hesitation for that. I'm getting the first plane ticket to go to that school, because if it's there, I'm going to take it," Zamarripa said.
Her family's testimony of determination and hard work has become a model for people in housing programs. Empowered and undaunted, Zamarripa leaves students with a final request.
"No matter the situation, you can overcome it. You just need to make the right connections and talk to the right people because everything is possible if you put your mind to it. Make the impossible possible," Zamarripa said.
About the Photographer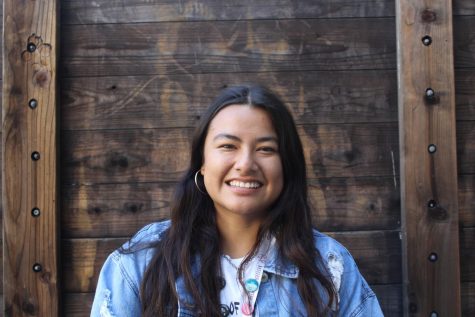 Salma Ramirez, Co-Editor in Chief
In the four years that she has been a part of the Silvertip, Salma Ramirez has been the Grizzlyland Editor, Copy Editor, and is currently the Co-Editor...