Advertising
Why Advertise With Us?
Advertising in high school media outlets connects advertisers with the coveted and hard to reach a teen audience in an uncluttered environment!

Teen spending power only increases every year– we are your consumer!

We use social media to not only spread the news on campus but to promote our product and our supporters like you!

Our online newspaper readership is over 2700 students, teachers, parents, and community members!

And best of all, your contributions ensure the continuation of our program, and empower students to remain connected to their campus and their community through the journalism program at MHHS!
What Kinds of Ads Can We Sell?
Ads that market a local business

Ads that include coupons (clip out or print)

Ads that promote clubs and services on campus (think GearUp, the Writing Den, Band, etc.)

Ads for local events (check the city's website for their calendar and contact)

We CANNOT sell ads for items or services that are illegal for the majority of our readership (i.e. drugs, alcohol, etc.). We also will not sell ads that are distasteful or disruptive to our learning environment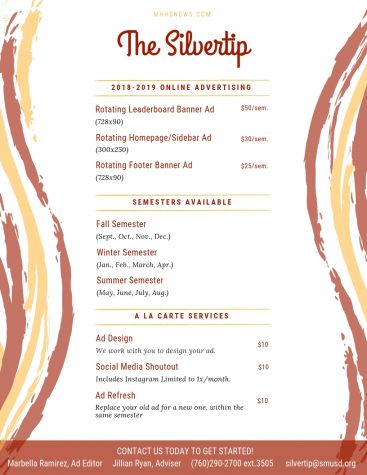 We also publish a paper copy of our newspaper in May; contact us for print pricing for our Senior Edition! Click here for our Ad contract.