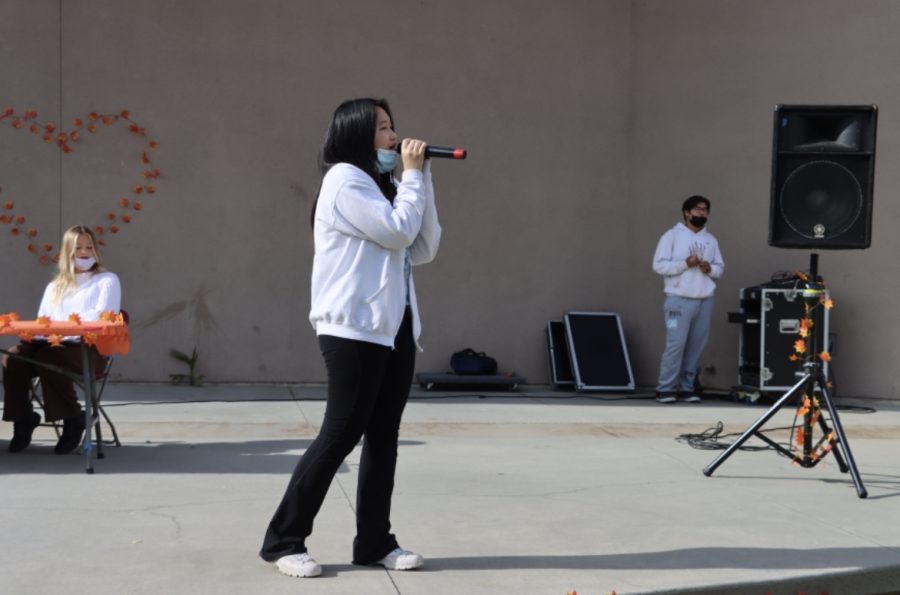 Lori Nishiguchi
Creative writing was enjoyed by poets and non-poets alike at the fall poetry slam. On November 19th, Mission Hills's ASB organized the slam, an event held at the amphitheatre during lunch where students got to share poems, sing karaoke and play cornhole and spikeball.
   "[The poetry slam is] just for people to have a good time and the reason we started this was because lots of people have writing that they're hiding and we just wanted them to be able to talk out in the open without being judged," said junior Neveah Jones, an ASB student who was part of making the poetry slam possible.
   The student with the best poem won a $15 gift card to the bookstore Barnes and Noble. Poems were judged based on creativity, execution, and effort. The event allowed Grizzlies to share their voice and express themselves with their peers.
  "I decided to come to this poetry slam because I wanted to hear everyone's poems. Their poems are very good so far and I love the creativity of each one," junior Alexis Ibarra said.
   Poems were allowed to be about any topic. Each participant was cheered on by the audience and presented their works in an inclusive environment.
   "I actually wrote the basis of this [poem] in sixth grade, but then after I heard the slam [was taking place] I decided to rewrite it… I gave my first poem to my sixth grade teacher and it was hardly comprehensible, I just rewrote it recently and I was very proud of it," said sophomore Isabella Retief, a student who shared a poem titled "The Golden Bowl."
  Mission Hills offers many places for students to show their artistic talents. Creative expression is highly encouraged and there are many opportunities in the future to share one's unique gift.