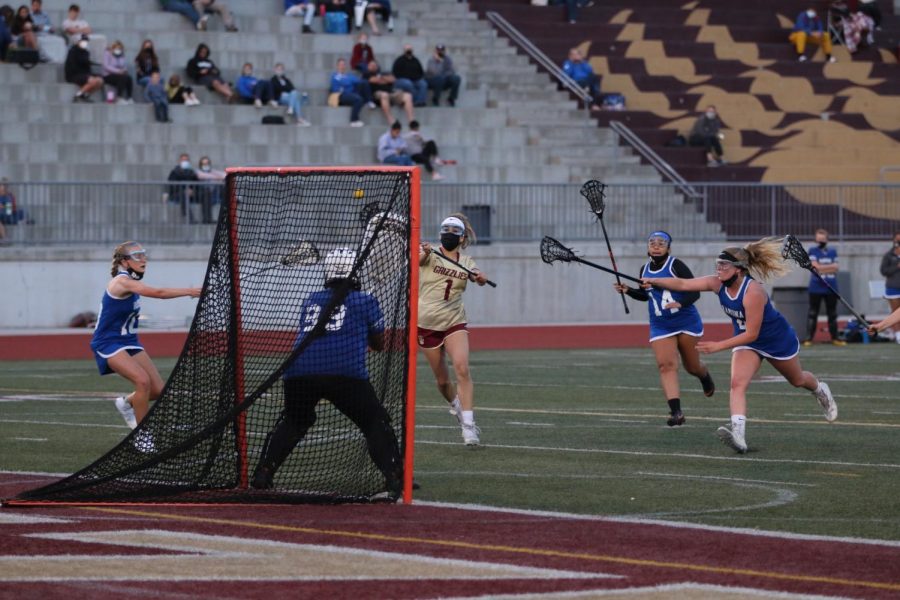 Cliff Mitchell
The spirit of Mission Hills High School's girls lacrosse team can't be checked as they begin their 2020-2021 season.
"Something I am really excited for this season is being able to watch my team sharpen their skills and for us to grow closer together," senior goalie Staci Hancock said.
The first game of the season took place on April third against Vista, resulting in a 17-1 win. This was immediately followed by another 18-2 win against Ramona for their home opener on April sixth. Because of the team's successes so far, hopes are high for this upcoming season, and they are excited for what's to come despite the shortened season.
"I would say the biggest goal I had for this season was to come in with an open mind and a positive attitude. With COVID always giving the possibility of a fast ending season, I always try to cherish the time I have on the field with my team," junior defender Bella Counts said.
"My ultimate goal is just to play hard and have fun because I know what it's like to play like it's my last. Also to work together throughout the field and using each other's strengths to win. It's sad to have a short season, but makes every game so much more special," senior captain Lily Kniseley said.
As with most aspects of Mission Hills, the lacrosse season has undergone some new changes in light of the pandemic.
"Our lacrosse season has adapted pretty well to COVID guidelines. There weren't any drastic changes and it's all still COVID safe. The only effects it had on lacrosse was a delayed season, certain mask requirements, not being able to shake hands with opposing teams, and other small tweaks. Even with these changes we all still have a great time just like any other season," junior midfielder Kamryn Kinsey said.
Even though the season may be abbreviated, the girls have been working towards this all year. They've been playing on club teams. They were there for preseason and conditioning. They've been hard at work on their individual skills. The players' dedication to the sport extends past the time parameters of the season because their love for it remains strong.
"I love lacrosse. I mean, I started the sport in middle school and instantly found a passion for it and I haven't stopped playing ever since; I've played every moment that I could, and I love playing with Mission Hills because I love the family atmosphere that our team generates. I think we're really in sync and we're so supportive when we make mistakes or when we do something good, so that's the reason I love this team," senior captain Emma Kranz said.
The girls continue to kick butt, sticking together and netting themselves dub after dub. For more information on the team's activities, check out their Instagram account @mhhsgirlslax or their website here, and for weekly updates on the final scores of the games check The Silvertip's Sports and Scores page.