Veterans Day: A day dedicated to the brave men and women who have fought for our country
Veterans Day is a day dedicated to showing gratitude to all of the brave men and women who have sacrificed their time and well-being to serve our country. Remember to appreciate and give thanks to some of our Veterans here on campus. Thank you to Principal Mitchell, Mr. Billings, Mr. Zonana, Mr. Frierson, Barry Williams, Otilio Molano, Robert Hanlon, Jimmy Jones Jr. and Mike Marks for making the ultimate sacrifice to serve our country.
When the temperatures start to drop and the holiday season is right around the corner, most Americans tend to get hyped up for Halloween, Thanksgiving, Christmas, and New Year's Eve, which are all important holidays, but some don't give as much attention to another important holiday: Veterans Day. Veterans Day is a holiday that honors every veteran that has ever served, whether in peace or in war. It's an opportunity for Americans to remember that freedom isn't really free, it was and is paid for by the lives and dedication of those who serve in our military.
The holiday was first referred to as "Armistice Day," officiated in 1938 to commemorate the end of World War l at the 11th hour on the 11th day of the 11th month in 1918. After World War ll and the Korean War, Congress changed the holiday name to "Veterans Day" in order to honor veterans from all wars, and the date was changed to the fourth Monday in October for a short period of time. It quickly became clear that Americans wanted to celebrate the holiday on November 11th, since that date is so significant, so in 1975 President Gerald Ford signed a law that returned the holiday to its original day in November. The holiday has been celebrated in America ever since, and other countries such as Canada, England, and France celebrate on or near November 11th as well.
"My father was on the battleship Maryland which was sunk during the Pearl Harbor attack that started World War II for the United States. My father talked to me about the chaos and destruction on that fateful morning. My favorite cousin was a navy pilot that flew many missions off of a carrier during the Vietnam war. A number of my high school classmates served in the Vietnam war, some of whom were killed. I am grateful that our country celebrates and honors those who served in our military on Veterans Day, " San Marcos local veteran Dennis Wells said.
Veterans Day is a day set aside to honor every single person that has served in the United States military because they blend in with society and often are underappreciated. They are our friends, family, and acquaintances; our fellow Americans. Additionally, behind each veteran, there is a family who sacrificed time with their loved one so they could serve our country, and they should be honored as well. Memorial services and moments of silence are often held for those who made the ultimate sacrifice, and government offices are closed on or around Veterans Day to show appreciation to those who served. No matter what branch, what time period, or how much time, Veterans Day is an opportunity to thank everyone who has been in our military. Here at Mission Hills, we would like to show gratitude to our Veterans here on campus for their service, dedication, and courage. Thank you to Principal Mitchell, Mr.Billings, Mr.Zonana, Mr.Frierson, Campus Supervisors Barry Williams, Otilio Molano, Robert Hanlon, Jimmy Jones Jr., and Mike Marks for making the ultimate sacrifice to serve our country.
"I was extremely honored to serve as a United States Marine. I've always felt it was a great honor to serve my country. I was able to travel the world and meet so many great people. I was able to use my GI Bill and get my college degree. I love my country and my country loves me," local veteran Todd Baker said.
Although the typical Veterans Day celebrations like parades and barbeques might not be possible due to the coronavirus, we can still show the veterans in our lives that we appreciate everything they have done for our country. Even a phone call, quick text, or simply hanging up a flag can show we appreciate the commitment, honor, and sacrifices veterans have made to help protect our country. We can show them we remember freedom isn't really free.
About the Contributor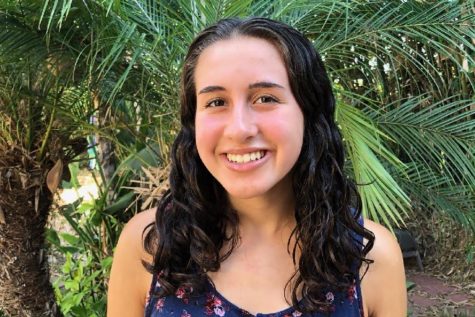 Malia Brame, Staff Writer
Malia Brame is a junior who joined the Silvertip this year. Malia believes the Silvertip is an amazing place where students can express their own voice...