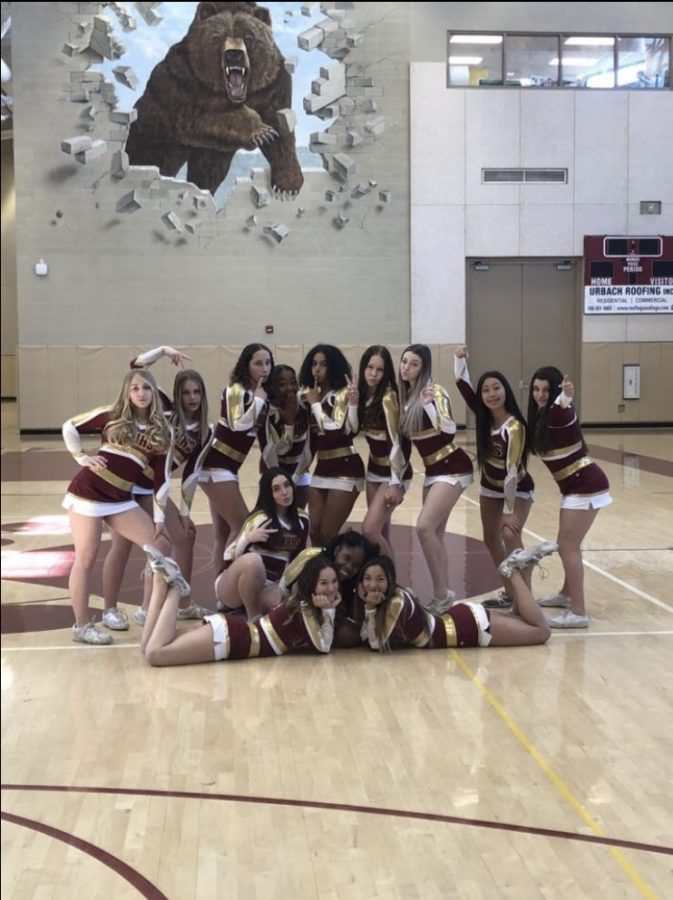 Aleigh Moore
   Mission Hills High School is known for having a great cheer team and a highly competitive competition team. The competition team consists of five JV girls and eight Varsity girls with intensive, lengthy, and more rigorous practices compared to the regular sideline team that cheers on Friday nights. 
   "The difference between comp and sideline is the bond between the team along with the experiences from traveling together. I prefer comp more because we are smaller and closer as a team, and competing is a lot of fun," Jatavia Finnel (11) said. 
  The cheerleaders had their CIF competition on Dec. 7, 2019. Although they didn't come home with a trophy, they performed well against schools from San Diego County. 
   The team arrived at Carlsbad High School at 9 a.m., and were overall confident that they would put on a great performance. The team has had 5:45 a.m. practices since November while still managing another sideline team, school, and work.
   "Early morning practices always pay off, it's exciting to see our hard work and dedication towards cheer always pay off in the end. As a team we build a bond together and continuously push each other to perform at our best," Hailee Elders (11) said. 
   The Grizzlies competed in one of the hardest divisions, and were content with placing third  when competing against other Division I teams like La Costa Canyon, San Pasqual, and Hilltop. The cheerleaders placed second at their last competition on Nov. 22 at the Anaheim Convention Center, which qualified them for Nationals that took place in Las Vegas, Nev at the end of February 2020.
   "Compared to our previous competitions, I think we will be more prepared going into nationals by having a more positive mindset and more discipline. I believe everyone on the team knows what to expect at this point in the season and we are all taking on new roles and responsibilities in order to help out our team," Jurnee Gregory (12) said. 
   The team placed third in their division at Nationals, returning home with a banner in hand. Although there were many obstacles along the way, the girls put up a good fight.