News Recap for February 10, 2020
Your weekly recap for all things news.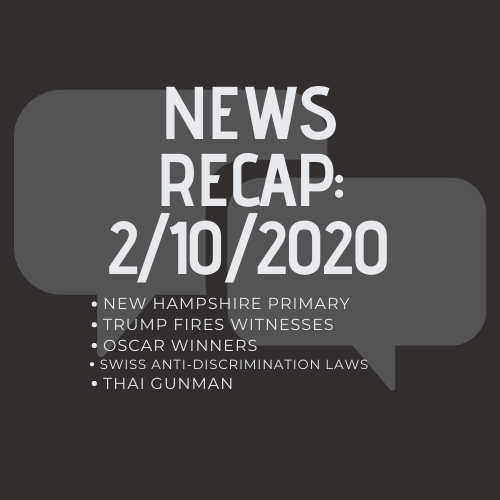 New Hampshire Primary
People are looking towards the New Hampshire Primaries to provide a more decisive vision for the Democratic Party. Many are disregarding the results of the Iowa Caucus on the Democratic side since it ended in confusion and uncertainty. Although Pete Buttigieg and Bernie Sanders were neck and neck in Iowa, analysts predict that Sanders will take a clear victory in New Hampshire.
Trump Fires Witnesses
The Trump Administration fired U.S. Ambassador Gordon Scotland and Ukraine Policy officer Alexander Vindman, two key witnesses in the Impeachment trial that took place within the past two months. The Senate decided not to remove but rather acquit the president on both charges of impeachment last wednesday. Trump defended these firings, citing that Vindman was "very insubordinate" and reported the content of the calls incorrectly.
Oscar Winners
The 92nd annual Academy  Awards show took place last Saturday night, with the South Korean movie "Parasite" winning the most Oscars in categories like "Best Picture" and "Best Writing (Screenplay)". Joaquin Phoenix won his first oscar for his performance in "Joker." Netflix had 24 nominations, but only won two awards. To view the full list of winners, click here.
Swiss Anti-Discrimination Laws
Switzerland recently passed a bill that could give people prison time for making public homophobic comments. The bill was passed on a vote, with 61.3 percent voting for and 36.9 percent voting against. Many people arguing against the bill claimed that it would be an infringement against free speech. Others are more concerned with the lack of acceptance of the LGBT community within Switzerland.
Thai Gunman
On Saturday, a Thai soldier went on an 18-hour shooting spree, resulting in the death of 29 people, before police shot him to death. Allegedly, he was motivated from resentment out of a land deal by his superior officer. The gunman shot his superior officer and other soldiers/bystanders within the base before moving to a nearby mall where he was killed.