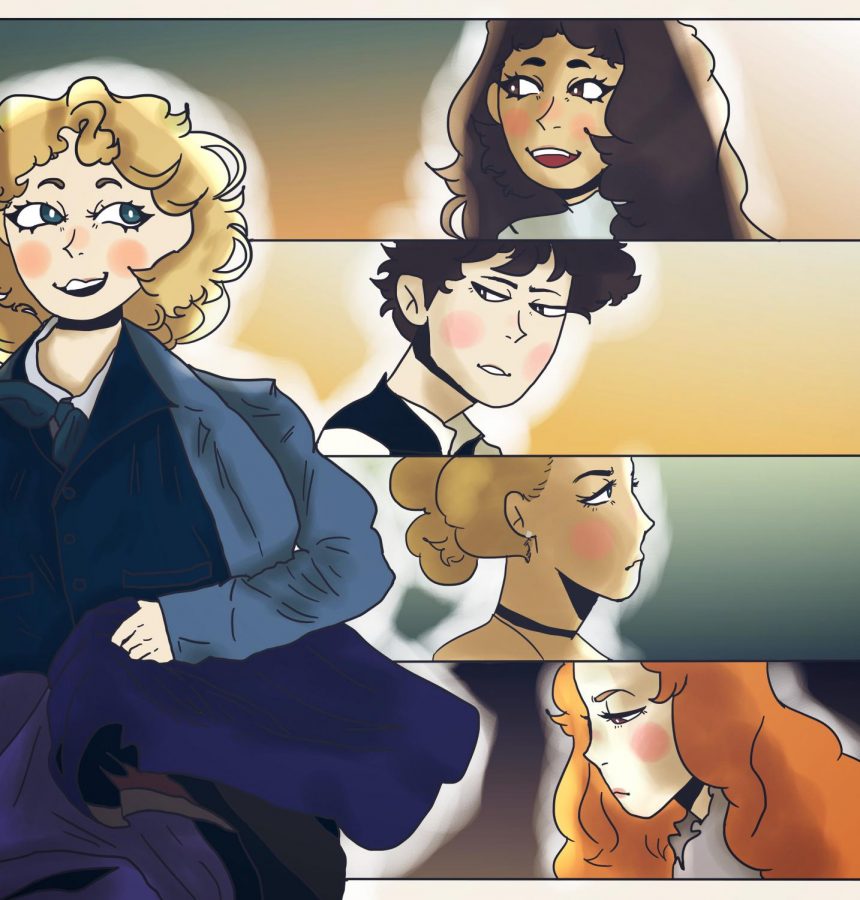 Lindsey Poorman
   Since 1868, 1.78 million copies of Louisa May Alcott's Little Women have been sold around the world. As the eighth film adaptation of the novel, the new movie portrays the original storyline of the book, following the lives of the four March sisters; Amy, Jo, Beth, and Meg, as they grow to womanhood. Based loosely on Alcott's life, the sisters come of age in America during the aftermath of the Civil War. This new film pushes further away from Alcott's semi-autobiography, including major scenes but reimagining the story to have a more modern feel.
   Each March sister has a different personality, but they all come together to push through difficult and changing times. Jo March, the protagonist played by Saoirse Ronan, is bold, outspoken, and tomboyish; as the second oldest she is meant to represent Louisa herself. The other sisters are played by: Emma Watson (Meg), Eliza Scanlen (Beth), and Florence Pugh (Amy). All the sisters bring a different aspect of life, such as, responsibility and shyness or beauty and confidence.
  "I'm especially looking forward to seeing the film so that I'm able to witness the character's road to individuality, all while exploring the major themes of the original novel: domesticity, work, and true love," Alyssa Slater (10) said.
   The new adaptation focuses more on the sisters' young adult lives, specifically after Meg, Jo, and Amy leave their family home. While navigating this uncertain time, the sisters push their limits and eventually find their place in the world. As the story unfolds, the audience can see common themes develop, such as kindness and determination, that lead to valuable life lessons.
   "I was unsure going into the movie if I would like it, but I ended up really enjoying it. It was interesting to see the sisters interact and learn different life lessons that my mom would teach me. I have never read the book before but seeing how interesting the movie makes me want to read it," Layla Azhar (9) said.
   The film was chosen by both the American Film Institute, and "Time Magazine" as one of the top ten films of the year. Rotten Tomatoes, a review platform, rates the film an approving 95 percent from 343 reviews with an average rating of 8.59/10.
   "It's a classic in its own right. The adaptation is faithful to its historical roots, yet it runs on contemporary energy. The thrust is forthrightly feminist, in the deepest spirit of the novel, with attention paid to the economic penalties of women's subordinate status," said Joe Morgenstern, Wall Street Journal.
   The film hit theaters across the U.S. and Canada on Dec. 25. The film made $29 million over the opening weekend. All fans of the novel are sure to love the movie. To watch a classic come to life from a great cast, go watch Little Women now in theaters.