News Recap for Febuary 4, 2020
Your weekly recap for all things news.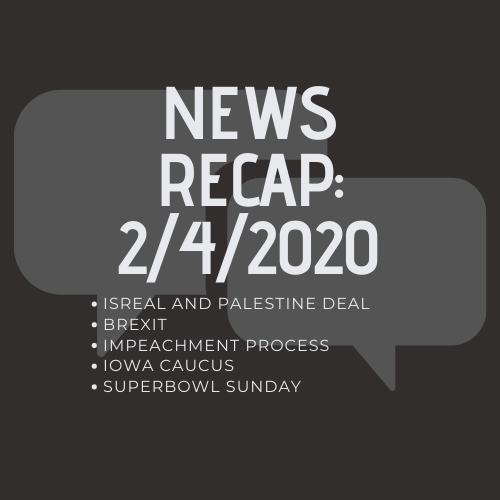 Isreali-Palestinian conflict update
During an emergency Arab League meeting in Cairo on Saturday, the Palestinian Authority chose to turn down Trump's Israli-Palestinian plan, and cut relations with the U.S. and Isreal. The Arab League followed suit, officially rejecting the plan while pointing out the lack of Palestinian input. Trump's plan offers a vague promise of sovereignty, and in return, forces Palestine to give up claims along the West Bank. 
Brexit
On Friday, Britain formally left the European Union. Britain voted to leave back in 2016, but the uniqueness of the situation forced Britain and the EU to slow down the process in order to ensure that both sides are satisfied. Economists claim that leaving the EU would have negative effects on Britain, lowering the UK's income per capita.
Impeachment
The Senate voted not to consider new witnesses and documents in the impeachment trial in a 49-51 vote on Friday. While Republicans Mitt Romney and Susan Collins voted to consider witnesses with the democrats, the Democratic Party was still two votes short from gaining the majority. The final vote will be set next week.
Iowa Caucus
On Monday, the state of Iowa will hold the country's first caucus for the presidential candidates. Iowans will vote for which candidates they want to see on the ballot. The Iowa Caucus is pivotal in the 2020 election; political analysts use the results to predict the outcome of the other primaries/caucuses and the national election. 
SUPER BOWL SUNDAY
The Kansas City Chiefs won the Super Bowl against the San Francisco 49'ers in a 20-31 score. Jennifer Lopez and Shakira performed at halftime, performing their hit songs like "She Wolf" and "On the Floor." The MVP of the night was Patrick Mahomes after leading the Chief's comeback.